In the digital economy, tracking website visitors and their behavior yields data for website analytics, advertising, and conversion insights that can prove to be invaluable to online businesses. Website cookies enable this data supply chain and on average websites use around 20 cookies.
This number usually increases with the size of the domain. In many cases, most of the cookies found on websites are third-party cookies used for analytics or marketing purposes and will process personal data from end-users – that's why they're regulated in many regions of the world, including the European Union and California.
In this blog post, we summarize what cookies are, why online businesses need to care about them, and how a plug-and-play solution like Mono Cookie Consent in partnership with Cookiebot consent management platform (CMP) can automate end-user consent and compliance on any website.
What are cookies?
Cookies are an umbrella term for tracking technologies that collect, store, and share data from end-users when they visit a website. The main reasons for using cookies include:
Improving the experience on-site by recognizing users, recalling their logins and preferences;
Personalizing and targeting advertising based on browsing history;
Boosting sales by tracking previously viewed items, shopping preferences, engagement, and behavior on site.
Most online businesses will have websites with dozens of cookies and trackers in use but will likely not know the full extent of cookies set by 3rd parties on their websites.
Some can be necessary for the basic function of a website, but most cookies are used for statistical and marketing purposes, collecting personal data (such as user behavior and search history), and often sharing this data with third parties, like tech companies, social media platforms, and data brokers.
So, while cookies help your website function, and give you insights into its performance and conversions, they also pose several risks to your business.
Why do online businesses need to care about cookies?
There are 3 good reasons why any online business should care about cookies:
1. Cookies are regulated in many regions of the world, but particularly strict rules apply in Europe and California
The EU's General Data Protection Regulation requires any website that has users from the EU must be transparent about all cookies in use. Cookies must also be blocked until end-users make the choice to activate them or not; this is also known as prior consent.
California's CCPA similarly requires any website with users from the state to offer full transparency about its cookies and to offer users the choice of opting out of personal information processing altogether – most of which is done through third-party cookies.
Both the GDPR and the CCPA require your website to have detailed cookie policies available to end-users.
2. Consumer awareness about cookies is increasing
For several years now, public awareness about cookies, tracking, and misuse of personal data has grown exponentially. Today, data privacy is becoming a metric of brand reputation itself with 80% of consumers saying they have left a brand because the brand used their data without consent.
According to asurvey conducted by Mckinsey in 2020, 71% of consumers in North America said that they would stop doing business with a company if it gave away sensitive data without permission.
Failing to offer proper data protection and showing disrespect for end-user privacy rights is no longer only a legal compliance issue, but an issue of customer relations and trust.
3. The digital economy itself is turning towards consent
Acknowledging that end-users need more control over how their personal data is handled, Google launched Google Consent Mode that enables websites to run all their favorite services (like Google Tag Manager and Google Analytics) based on end-user consent.
Other web browsers like Apple's Safari and Mozilla's Firefox, have already been blocking third-party cookies for a while.
This is a major shift of the adtech industry itself, heralding a new phase of the digital economy that puts end-user consent at the forefront.
What does this mean for online businesses and organizations?
Consent is becoming a strong and stable core of the new Internet, post third-party cookies.
There's no way around implementing true end-user consent solutions on your domain that ensures 1) compliance with the world's major data privacy laws, 2) builds better customer relations, and 3) stays up-to-date with the new consent-focused technologies being developed by Google, Apple, Mozilla and the rest of the heavyweights moving the Internet today.
So, why do online businesses need a CMP solution on their website?
Mono Cookie Consent Solution powered by Cookiebot CMP offers SMEs a patent-pending scanning technology that automatically detects, blocks, and categorizes all cookies and tracking scripts based on an extensive cookies and trackers repository, and a consent solution that makes it easy for any website to achieve the right balance between end-user data privacy and data-driven online business.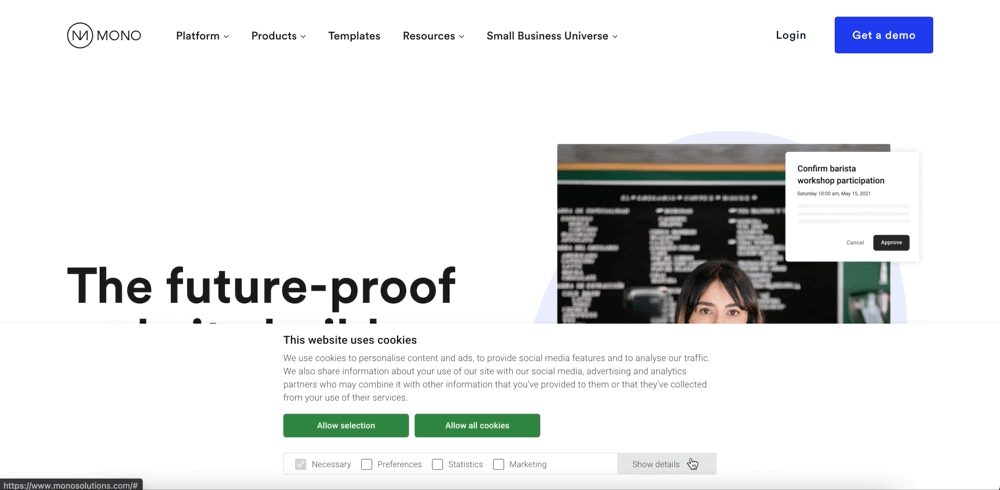 Mono Cookie Consent enables compliance with all major data privacy laws, including the EU's GDPR, California's CCPA, Brazil's LGPD, South Africa's POPIA, and many other comprehensive data privacy laws around the world.
It also provides websites with a dynamically updated cookie policy complete with technical specifications, duration, provider, and purpose that can be added as a brand new page module directly inline with your privacy policy, as required by both the EU's GDPR and California's CCPA.
Mono Cookie Consent is available to all Mono partners and fills in the much-needed cookie compliance piece of our goal of providing the future-proof website builder.

Not a Mono Partner? Book a demo to see how you can offer websites to small businesses at scale.
About the Author
Simon Høgsbro is the Chief Commercial Officer at Cybot, the company behind Cookiebot Consent Management Platform. He dedicates his days to helping customers and partners build a positive brand reputation online, enabling them to respect their users' privacy rights and keep their websites compliant with the latest privacy legislation.
By leading Product, Channels, and Partnerships at Cybot, Simon works at the forefront of new developments around privacy and consent management.