Most websites use cookies, especially online businesses with analytics and marketing services integrated into their domains. However, most major data privacy laws in the world regulate the use of cookies and require that they be detected and controlled and that end-users are given a real choice over how their data is handled.
In this blog post, we will look at how to manage your website's cookies, how to collect compliant end-user consents, plus best practices for keeping your website compliant on a monthly basis.
How to detect and control your website's cookies and trackers
In short, online businesses need two things to stay compliant with strict data privacy laws like the EU's GDPR and California's CCPA: a cookie consent banner and a cookie policy.
However, it is important that your website's cookie consent banner is not just a text box with no real data protection functionality behind it, and that your cookie policy is exhaustive and technically detailed to live up to the requirements of the EU's GDPR and California's CCPA, among many other comprehensive data privacy laws.
Here is an example of a fully compliant cookie consent banner: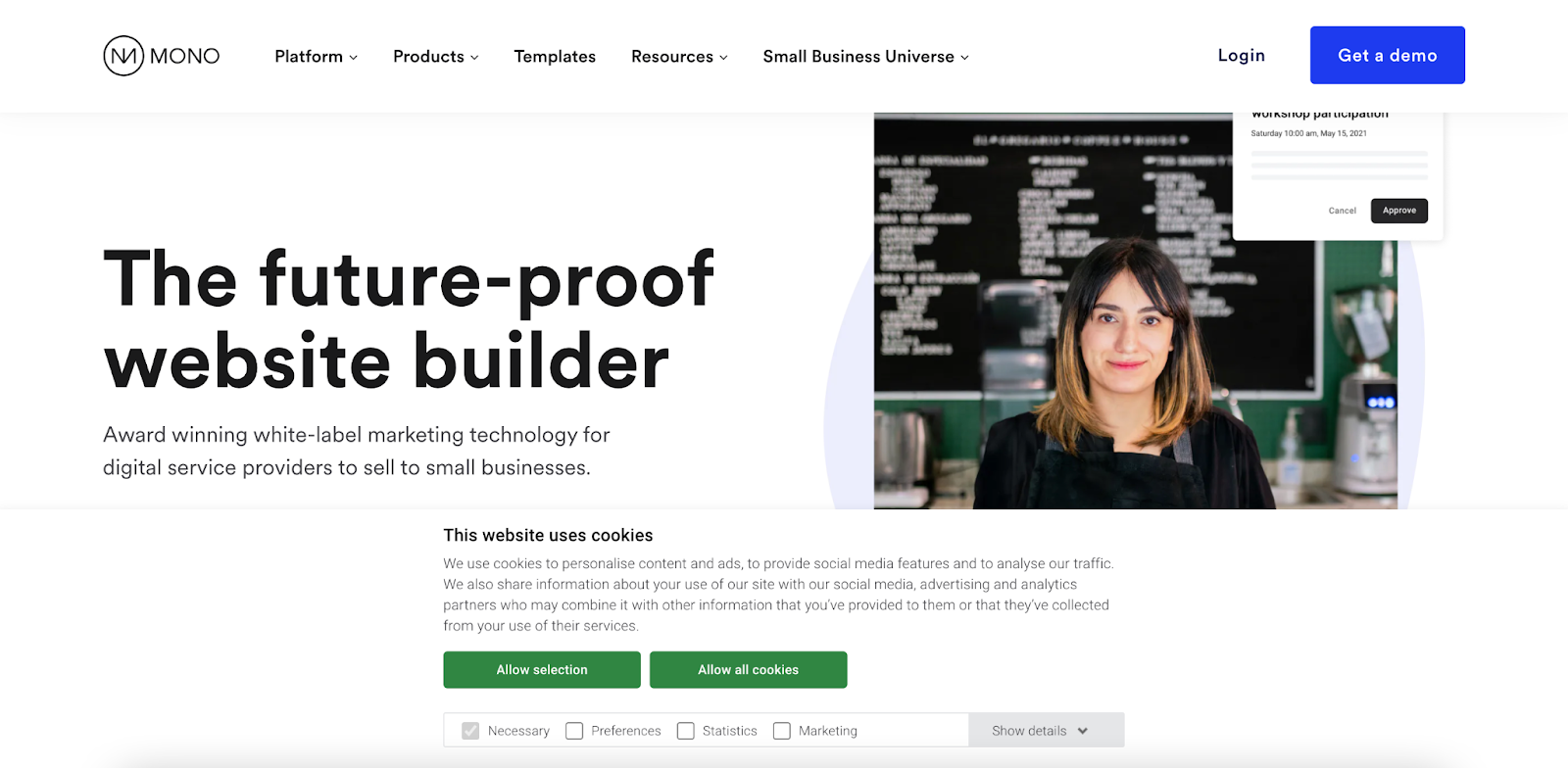 Our brand new product, Mono Cookie Consent, is powered by the partnership with Cookiebot consent management platform (CMP), which features a patent-pending scanning technology integrated seamlessly into its core, capable of finding and controlling all trackers – even the "trojan horses" that may hide in third-party cookies and prompt to change upon repeated visits.
The partnership between Mono Solutions and Cookiebot CMP enables you to live up to the highest standards of personal data protection on the Internet today. 
How?
Mono Cookie Consent offers the best-in-class cookie consent banners with better user experience, high-level of accessibility and mobile responsiveness, and secondly, a patent-pending scanning solution that automatically detects, blocks, and categorizes all cookies and tracking scripts based on an extensive cookies and trackers repository, used by both small and medium-sized businesses and big enterprise companies.
As a core service of Mono Cookie Consent, the scanner produces an exhaustive cookie declaration complete with legally required details on technical specifications, provider, duration, and purpose on each cookie in use on your domain – ready to be integrated in your website's privacy policy or provided as a standalone cookie declaration.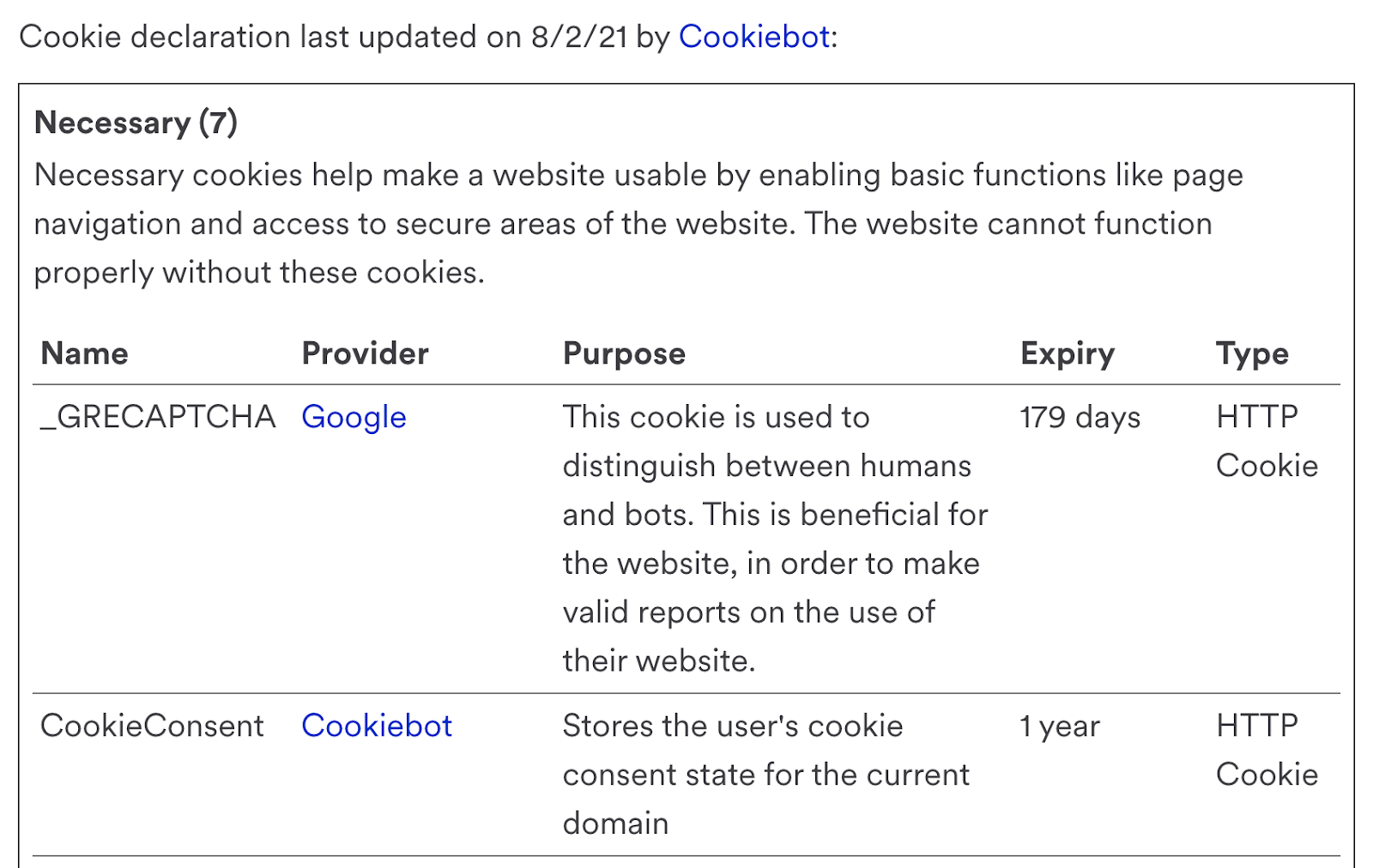 How to collect compliant end-user consents
Cookie consent popups can be notoriously annoying text boxes offering no real choice of data protection for your end-users. Choosing the wrong cookie consent manager for your website can negatively affect your customer acquisition and retention as well as pertain to legal jeopardy for non-compliance.
The European Union's General Data Protection Regulation requires that cookie consent banners on your website empower end-users with true prior consent, meaning no cookies activated, and no personal data processed before users have given their consent.
Google Consent Mode's seamless integration with Cookiebot CMP ensures that you can balance data privacy compliance and data-driven business on your website without having to compromise either.
Best practices on how to manage your website's compliance on a monthly basis
The best and most painless way to manage your website's compliance is to use a consent management platform, like Mono Cookie consent.
By using Mono Cookie Consent, you will automate your website's entire compliance process, offering compliance solutions for the EU's GDPR, California's CCPA, and other local data privacy regulations.
Once implemented on your domain, Mono Cookie Consent will automatically update your consent banner and cookie declaration with any newly identified cookies and trackers, as required by law, so that your website compliance is continuously updated.
About the Author
Simon Høgsbro is the Chief Commercial Officer at Cybot, the company behind Cookiebot Consent Management Platform. He dedicates his days to helping customers and partners build a positive brand reputation online, enabling them to respect their users' privacy rights and keep their websites compliant with the latest privacy legislation.

By leading Product, Channels, and Partnerships at Cybot, Simon works at the forefront of new developments around privacy and consent management.