If you are currently offering website solutions, you may one day outgrow your technology provider and need to migrate all your client's sites to a new platform. 
Here's another scenario: You offer website solutions through a platform that your company has built. You've realized that maintaining a complex platform is not scalable, and you're exploring a white-label provider, like Mono Solutions.
Regardless of your reason, you're now faced with a monumental project – website migration.
The migration of websites from one platform to another can be a truly challenging process. Doing this for thousands of websites requires structure, technical expertise, and experience. That's why it's crucial to have the right partner with a proven track record in facilitating large-scale website migration projects. 
What matters when migrating websites is understanding the needs of your organization and your customers. Whether it be the need for more modern website design, better search engine optimization, or better site performance, it's essential to listen to your customers. 
If you're wondering why you should migrate your client's websites to a new platform, read our post on this topic. We will touch on the why below, but this post will mainly focus on the how of planning a website migration project. 
I will share some critical factors to evaluate before you start migrating websites, as well as some tips and tricks from my own experience. At the end of this post, I'll give you a link to a downloadable checklist to help you keep track of your website migration project. 
If you sell website solutions to small businesses, this post is for you. 
Objectives and goals of website migration 
It is important to set clear objectives and goals before you start your website migration. You may want to simply upgrade your management platform to update the performance and content of your client's site. The best website management platforms allow resellers to upsell additional products like e-commerce and scheduling to their customers. 
I recommend finding a partner for the migration process, one who can help set realistic objectives and goals. This allows you to focus on what is most important, and that is your customers and employees.
Our head of sales here at Mono, Peter Karstensen, says ¨It's necessary once in a while to evaluate if you should do a migration project. Especially if you are on a platform that does not stay up-to-date with the latest technology. You can end up lagging behind your competitors if you don't evaluate occasionally¨. 
The first step in a website migration should be identifying stakeholder's needs. That's why I recommend that you start with a stakeholder map. Below, I have prepared an example stakeholder map for Mono Solutions.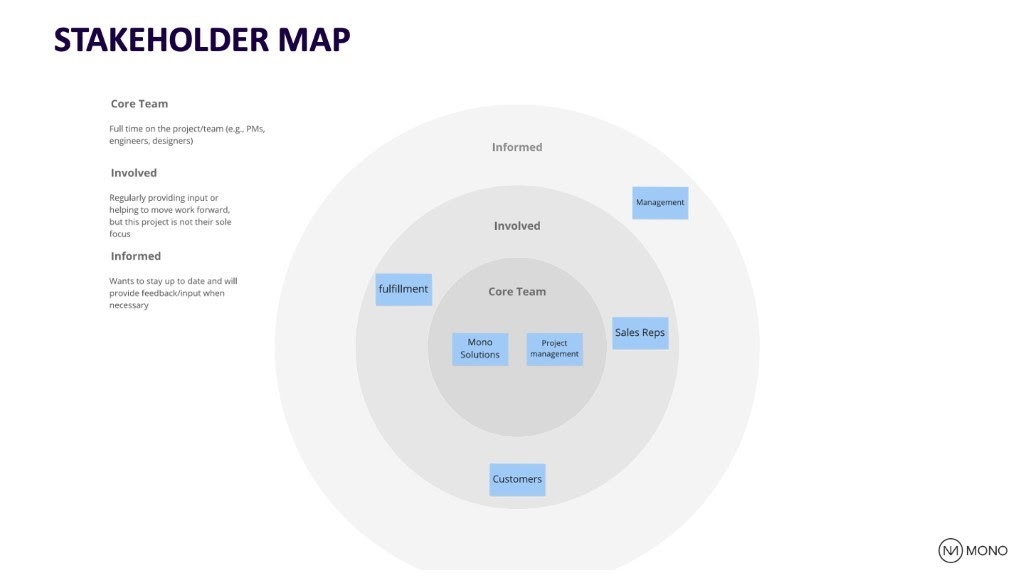 Once you have completed your stakeholder map, you can identify their needs by simply asking them. Try using surveys, polls, or any other communication method you have set up. 
Correcting mistakes 
Throughout your website migration, there will be a certain amount of cleanup to take care of periodically. One example is ensuring that old logos are replaced with new, and that contact information is up-to-date. 
During this process, you must identify things that are similar; company name, logo, blog posts, etc. When you harmonize your websites at scale in a structured and replicable manner, you end up with a better platform. 
In my experience, most customers are happy with the overall website health check that a migration project provides. In fact, at Mono, we have experienced that customer churn can potentially be reduced by 10-20% post-migration.
Saving time and money with automation 
Doing an automated migration comes with certain advantages - most notably that manual tasks can be minimized (although not fully eliminated). Running an automated process requires some prior planning, and a good partner like Mono solutions will make sure that everything is in order to start the migration. 
If you'd prefer to outsource the quality assurance process, Mono has a network of fulfillment partners around the world, and we'd be happy to connect you with their services. If the partner cannot find internal resources to manage the quality assurance work, Mono can also facilitate outsourcing. 
Mono's Migration Management System
Mono's Migration Management System helps you manage your whole migration process. Once you have a list of all the sites that need to be migrated to the Mono platform, the system helps you manage the flows. 
This system also includes a built-in quality assurance function that automatically alerts you if a function fails. For example, if the script cannot add a receiver email address to a contact form (e.g. it's missing for a specific website), an alert will be raised on that website in the system to be corrected. 
Bulk website migration
I always advise companies to do bulk website migration in pieces. If you have 100 pages you want to migrate, then do 10 at a time so you can review and adjust if needed. If you have 10.000 pages to migrate, then do 100 at a time. However, if you have below 100 pages that you need to migrate, you're better off migrating manually. 
For large-scale migrations, our recommendation is typically to start with the most simple websites. That way, the migration can be used to upgrade your client's feature-set and thereby functions as a more natural upsell opportunity for these clients. 
As new capabilities (such as migrating more advanced features) are added to the migration script, you can migrate more advanced or complex websites. As part of the process, Mono will provide an ongoing recommendation of which order the websites should be migrated based on the script's current technical capabilities. 
Set expectations for the new platform
Avoid replicating your old platform into the new environment. Bending a new platform to do what your old platform did will likely result in a sub-par website. It's essential to communicate with both your employees and your customers so they understand that change is coming, and it is for the better. 
This comes down to expectation management. Don't be afraid to talk to your small business customers. Taking their word into account will help you prioritize your migration and in the end, it might save you some time and effort.
Dedicate a team
The complexity of website migration stems from the volume of websites. Dedicating a team to the process is equally important. This is especially important for the customer experience, which needs to be the red thread throughout your website migration. 
If you lack the resources, you may need to go with a fully managed migration. In a fully managed migration, Mono provides website migration as a turnkey solution, where everything would be managed by Mono from start-to-finish – including quality assurance. 
Alternatively, you could go for a jointly managed migration, which is the most common approach for migration. Here, Mono provides the migration framework, technical migration, and project management. You as the reseller would take care of quality assurance and customer communication. 
In a jointly managed migration, the partner can either let their internal fulfillment handle quality assurance or outsource it to a third-party fulfillment partner. If the preference is to work with a third-party fulfillment partner, Mono has a trusted network of qualified fulfillment partners. 
Evaluating success
What does a successful site migration look like? This largely depends on the site migration type, the objectives, and the KPIs. But in most cases, a successful site migration has the following characteristics: 
All migrated sites are responsive,
All pages and their content (including images, additional language versions, and hidden pages) are migrated,
Sitemap and robots.txt are correct, 
SEO tags and descriptions on all pages, 
Analytics should be enabled, and historical traffic data improved or available, 
Redirects should be in place, 
Domains and emails are working. 
 
Mono Solutions has the necessary experience to facilitate website migration in a variety of ways, ensuring that you meet your needs of your small business clients. That's why with Mono you get someone who knows what they are doing, a trusted partner in migration, and someone who has your back. 
About the author 
Magnus Udbjørg is the Director of Engineering at Mono Solutions. Magnus has a management and computer science background with experience ranging from small start-ups to LEGO. With experience from the whole stack of engineering, he brings a wealth of knowledge; the recent focus has been bringing DevOps to life in the engineering culture.