You change direction and head to the nearest grocery store, while you type into Google search 'best apple pie recipe' on your phone.
Which one of these two rich links on Google search would you be more likely to click on?


I suspect your answer is number 2.
This is because of a phenomenon academia has labeled: 'social learning'. This means that you and I learn from observing the decisions of other people and the outcomes of those decisions.
Social learning is linked to humans' evolutionary and cultural success. Google Search and the Internet now provides social proof at an unprecedented scale. We can find the best apple pie recipe based on the reviews of those before me and decide to select that recipe for my dinner party.
Research also suggests that how consumers interpret online review scores is influenced by the number of reviews, which is a potential indicator both of an item's popularity and of the average review score. This illustrates both the power of peer ratings and reviews as well as highlighting the problem for B2B marketing.
Humans are hardwired to read reviews
In the B2B space, we have an added layer of distance between ourselves and the 'personas' we are targeting. The end-user can seem much further away and harder to reach than in the B2C space, and gathering reviews for B2B can seem even more daunting.
Is it even worth the investment of setting up a G2 review page and a Google My Business profile? At the end of the day, it is human beings who are deciding which provider best meets their needs.
We are hardwired to learn from observing the decisions of other people and the outcomes of those decisions. The B2B purchase process is no different. With more solutions in today's business landscape, so grows the complexity, which means that the savvy B2B buyers are now relying more on the opinions and expertise of peers than before. This is why reviews are an important part of digital marketing, customer experience, and sales.
Take a look at the statistics from this article:
8 in 10 decision-makers look outside the buying committee for information and counsel on B2B solutions.
70% of technology buyers are likely to discuss solutions or vendors with their professional peers.
External discussions around technology solutions and products are highly leveraged resources for both IT and non-IT functions.
Marketing, sales, and development are linked to reviews
Making reviews part of your digital marketing strategy gives you the opportunity to showcase your products, increase your SEO through backlink generation, and be a contending vendor in the customer decision-making process.
What we have done, for example, is to make dedicated visuals for each of our products and effectively communicates what the product can do.
Take, for example, our website builder (which we are especially proud of). We have created a review page on G2, an industry-standard B2B software review platform. This is a way to communicate our ambition of being the ultimate website builder for digital service providers to resell websites to small businesses at scale.
Visit our G2 review page here.
We showcase some of our other products on Gooogle My Business, where we communicate that we give you as a reseller and SMEs all the tools you need to sell products and services online:
Visit our Google My Business page here.
So now we know how we as humans are hardwired to learn from observing others' decisions. It can be difficult for B2B companies to reach a target audience and allocate resources to set up profiles on review platforms, but we know that it is most likely time well-spend.
Even if you get a bad review, it is arguably better to get a bad review than no review at all. There is a vast difference between a 1-star review and a 3-4 star review. In the case of a 1-star review, it would be most companies' intuition to act on it immediately and figure out what the problem was.
In the case of 3-4 star reviews, the reality is that buyers are looking for honest, real opinions of their peers. And the fact of the matter is that no company in history only has 5-star reviews from happy customers.
Research from Northwestern University shows that products with an average star rating in the 4.2-4.7 range are more likely to be purchased than those with near-perfect ratings.
Embrace the good and the bad about your company's products and services, and using them as a growth lever internally to assess your product portfolio. Reviews can help you qualify product innovation, discuss new business models, reveal product fit use cases, and more.
Research by Forrester suggests that when this is done:
For a higher-priced product, the conversion rate increased 380%,
When reviews were displayed for a lower-priced product, the conversion rate increased 190%,
Having at least 5 reviews causes purchase likelihood to increase nearly 4x.
Key takeaways:
Making decisions based on product reviews is hardwired into our brains. It is no different in the B2B space.
Reviews are a great way to get customer feedback on your products and services.
Most academic research suggests that reviews are a powerful conversion rate optimization hack. When companies begin displaying reviews, conversion rates escalate. Having at least five reviews causes purchase likelihood to increase by a factor of nearly 4x.
Action points for you to take in your company now:
1. Share this article and the links with research on the power of reviews with your colleagues, to get them on board with the next couple of steps.
2. Actively seek customer reviews. This might be uncomfortable to some, but the truth is that it is very hard to get real, honest, in-depth reviews from customers without asking for them in the B2B space.
3. Go the extra mile and respond to your customer reviews. A little while ago we ourselves at Mono got a bad review on Trustpilot. A superstar team member took immediate action and turned a one-star review into a five-star recommendation of our services.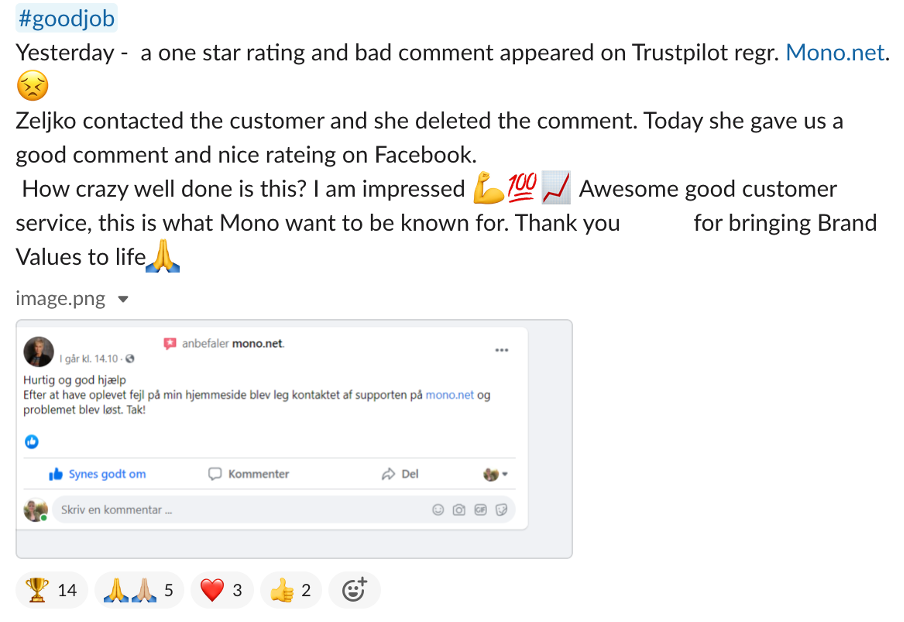 4. Make it easy and accessible for customers to submit reviews. Whether it be G2 API integration, Trustpilot link in your email signature, or a Facebook wall, it all matters.
5. Embrace the negative reviews as an amazing growth lever pushing your organization to move forward with client and market demand. 
And if you are already a Mono partner, it would mean so much to us if you could take the time to leave your review of us at G2 and/or Google My Business. As we have learned, your voice matters a great deal to future potential partners and to us as a business, so thank you in advance.
Leave a review on Google My Business
About the author
Elisabeth Grothe-Møller is the new Conversion Rate Optimization and Web Analyst at Mono Solutions. Elisabeth brings Fintech startup experience to the table and has worked with digital marketing and data analytics for small businesses since 2013. Most recently, she worked at Danske Bank within Innovation and Strategy. With startup and corporate experience as well as academic training within humanities and social sciences, Elisabeth is driven by delivering actionable data-driven insights and strategies.