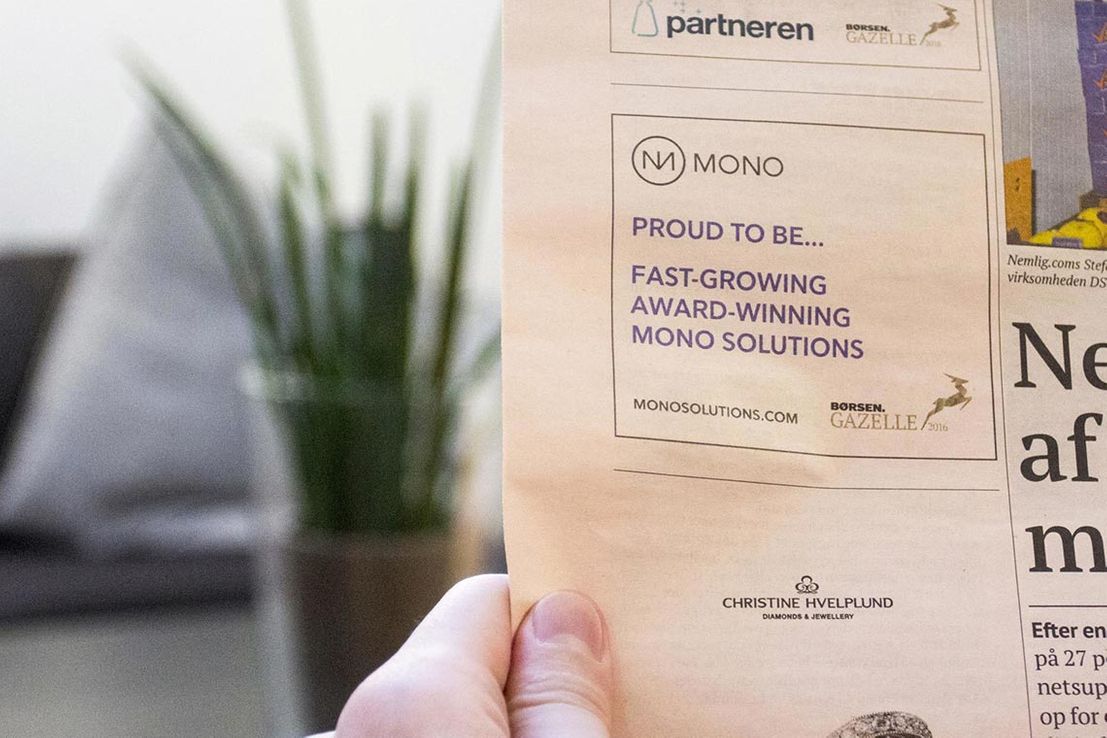 04/01/2017 by Louise Lachmann
Mono Solutions strengthens position for continued growth in 2017
January 4, 2017 / Copenhagen, DK - Mono Solutions holds strong expectations for continued growth throughout 2017, as the company continues to drive the vision of helping SMBs get a professional and affordable online presence through SMB service providers worldwide.
On top of a very busy and exciting 2016, Mono Solutions has been acknowledged as a fast growing company in Denmark for the second year in a row.


"We are thrilled to once again be receiving the Gazelle award from Børsen as it proves that our hard work throughout our 10 years in business has paid off. Being named a Gazelle is a prestigious honor in Denmark where we are headquartered, and it makes me tremendously proud of our team." - Louise Lachmann, CEO.

This recognition acknowledge the investments that have been put into growing the company, and which will continue to support growth and success in 2017.

Investments include a 60% growth in the workforce following the expanding network of partnerships around the world with strong industry players such as web.com, YP.ca and Local.ch. In 2016 Mono has also seen a growth in site subscriptions of more than 100%. Following successful launches of Mono E-commerce, Mono One-Click Sites and Mono CRM, Mono received three industry awards for innovation, presence management and best SMB service of the year.

SMBs online presence needs shape expectations for 2017
The great challenge in providing professional websites for SMBs at an affordable price is to make website creation and management as fast, hassle-free and scalable as possible in order to be able to keep costs low and margins high for the service providers. Data management and automation efficiency is therefore a central element in the Mono Platform. Mono will continue to expand the automation technology behind the award-winning Mono One-Click Sites to make it even easier to build and manage a greater palette of web solutions at scale.

"Our vision is and has always been to help small businesses get a professional online presence. We succeed in this by helping our reselling partners produce and sell professional websites at scale in a cost-efficient way. This year we strive to improve and strengthen our automation technology and extensive multi-site management tools to embrace the growing needs of service providers and therethrough provide even stronger offerings for SMBs. In 2017 we celebrate our 10 year anniversary, and I believe this will be the best year in Mono's history. " says Louise Lachmann, CEO

In 2017, Mono Solutions will continue to expand globally with planned activities in new regions, including Asia and South America, as well as the continued strengthening of resources and support in Europe and North America.

About Mono Solutions
www.monosolutions.com - Mono Solutions, headquartered in Copenhagen, Denmark, provides a SaaS-based platform for the design, delivery and management of professional, responsive websites and e-commerce. We help our resellers to efficiently and cost-effectively deliver high quality online presence solutions to SMBs through our platform, along with our partner network of distinguished digital service providers of SEM, SEO, fulfillment, domains and emails, online booking, call tracking and other complementary services. Mono Solutions has won several industry awards for innovation, presence management and best SMB service of the year.
Feed