The site, designed by Heise RegioConcept, topped an incredibly strong group of entry submissions - all created on the Mono website builder platform. The annual Best Website Competition is designed to raise awareness of the power of digital marketing and online presence for SMEs when done right.
The submission requirements included that the website be created on the Mono Editor Platform in 2021 and have a live website subscription with an attached domain. Additionally, each entry was judged on a variety of factors, as there are many aspects to a well-designed site, including:


• The performance of the site, including its responsiveness, accessibility and page load speed


• The visual design of the site, including its use of fonts and typography, a branded look and feel, an intuitive layout and additional visual elements


• The overall customer experience, including its use of conversions and how the site builds trust amongst website visitors
A judge of the competition, Konstantin Andreev, Head of Partner Support at Mono Solutions says: "The quality of this year's websites has truly been impressive – even the process of narrowing down sites to feature in our 2022 Best Website Showcase has been difficult. It's clear from the submissions that designers of small business websites are not only truly skilled in the Mono Platform but truly taking a holistic approach to website design – where visuals, layout, page speed, conversion opportunities and customer experience are all interconnected."
Competition judge and Product Manager at Mono Solutions, Julia Boitin, adds: "The work by Heise RegioConcept on the site for Hartwich Huber Poll Architekten GmbH stood out as it has a well-rounded design. The site performed well in SEO and accessibility as well as page speed for both mobile and desktop. Offering a distinctive, yet clean, branded design layout, the site is easily navigable by website visitors. This is a website truly designed to provide value for the small business through a well-thought-out digital presence with good conversion possibilities, while greeting website visitors with professionalism and a great user experience."
As more and more small businesses are turning towards navigating the digital world in the last few years, small businesses need to create a great first impression – and quickly. "The website designed by Heise RegioConcept for Hartwich Huber Poll Architekten GmbH establishes trust from the get-go through a cohesive brand design, tying in visuals of offline branding with online design elements, as well as using friendly and inviting headlines and call-to-actions. The architecture firm writes that their architecture is straightforward, functional and timelessly designed – and these characteristics are also shown in the website design by Tobias Ritter," says competition judge, Julianna Carlson-van Kleef, Master Trainer & Content Creator at Mono Solutions.  
A valued Mono Partner since 2014, the Heise RegioConcept product portfolio ranges from the creation of websites, a professional social media presence, company apps, videos, as well as social media marketing, SEA (Search Engine Advertising), SEO (Search Engine Optimization), and advertising on online directories.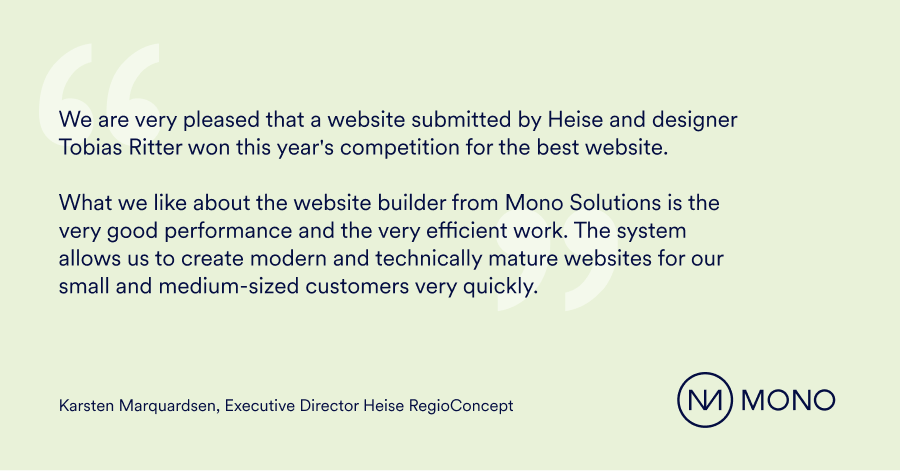 The Mono Editor offers search, page speed, and conversion-optimized website building technology to craft engaging and profitable small business websites. Mono Solutions has 80 partners globally with more than 125,000 websites using its website builder platform, with more users joining every month.
Find out more about Mono's 2022 website of the year and Mono's Best Website Competition here.
About Mono Solutions 
Mono was founded on the belief that all small businesses deserve the same level of online presence and performance as larger companies. With Mono platforms and products, we want to provide small businesses an all-in-one solution to boost their online presence and sell more. We not only want to provide the digital tools to fulfil their digital presence needs, but we also want to share inspiration for small business owners and web designers for their digital journey.