In The rise of the platform economy, Deloitte describes the impact of digitization on the workplace and workforce: "The world is going through a new economic revolution, disrupting the economy, businesses, labour markets and our daily lives... At the heart of this change is the rise of the platform economy. Workers are finding work through online outsourcing platforms and apps."
In our ever-increasingly digital world, the use of platforms only continues to rise. As McKinsey Global Institute writes, "The real question underlying the growth of digital platforms for independent work is not about how the numbers could grow. It is whether digital platforms could begin to challenge established notions of how companies are organized."
So, digitization is not only changing how companies are finding talent and how freelancers are finding work, but also how the work is being done and by whom.
Tasks that had previously solely been in-house may move to external freelancers. This move towards digitization and freelancing is presenting new opportunities, as well as challenges, to both independent workers and companies alike.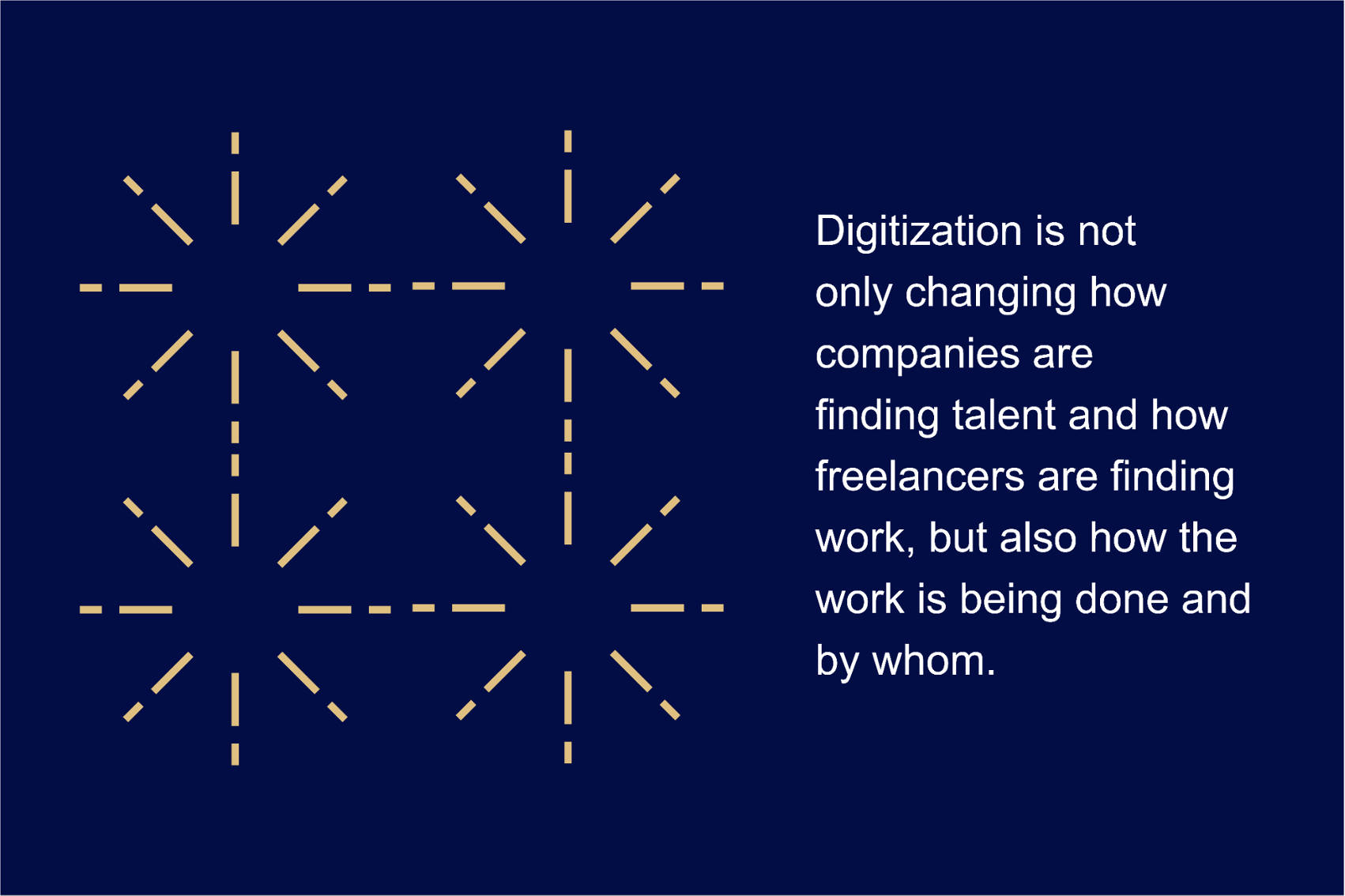 In Independent work: Choice, necessity, and the gig economy, the McKinsey Global Institute describes the new conditions for freelancers: "Independent work may allow individuals to escape the constraints of the corporate world, but it places a new set of demands on them. Each independent worker is essentially a self-contained small business—and running that business may demand new skills that are not in their natural wheelhouse."
Once a freelancer has struck out on their own, a freelancer is solely in charge of all aspects of running a business; including but not limited to: accounting, task management, lead generation, marketing, networking, and maintaining the company website and/or webshop.
With these new tasks comes new software - and possibly new avenues of interest.
Company branding is no longer solely controlled by the company itself, but rather user-generated content and online reviews are playing a much larger role. In short, customer experience is the new marketing.
An important question to ask then -  in the ever-evolving role of freelancers - is: Could freelancers serve as an intermediary between software companies and potential clients in some capacity? As freelancers have a wide variety of tasks to complete, software to use, and a network of clients, this could be an important avenue to explore. 
To look at that question, other questions also need to be addressed. Do freelancers recommend software? Do freelancers sell software? What reasons are there for not selling software? Are there areas of software reselling that could be improved?
European freelancers in the digital age
To explore the impact of digitization and the growing European freelance market, interviews were conducted in April 2021 with 553 full-time freelancers located in the United Kingdom, Germany, and Sweden. The report - Are freelancers the long-tail channel of the future? - was published by Localogy and Mono Solutions in May 2021. 
One key area of interest in the study was the relationship between freelancers and software. The report details how satisfied freelancers are with software used, which types of software freelancers recommend and sell to clients, factors that would improve the reseller partnership, and reasons for not reselling software.
Learn more about how digitization impacts all aspects of freelancing here →
Recommending and selling software
From our research, freelancers recommended software to a much greater extent than selling software, with 62% having recommended software compared to only 16% having sold software.
As freelancers use a variety of software, they have also recommended a variety of software to their clients. Top software recommended include: websites (35%), accounting (27%), and marketing (25%). Those that do resell also focus on websites (49%) and accounting (20%), as well as POS (20%) and CRM software (24%).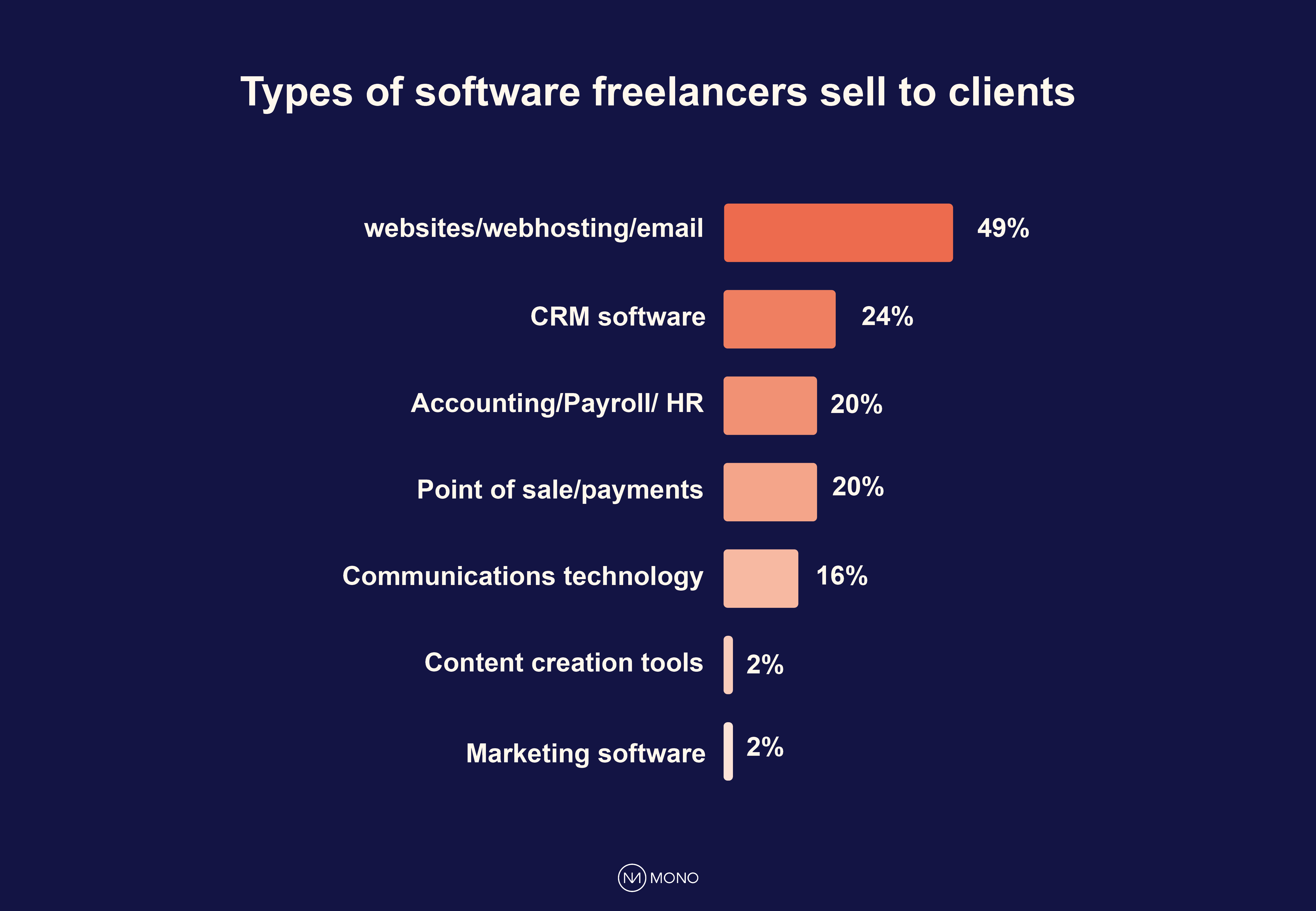 Reasons for not selling software
Of the freelancers surveyed, we learned that 84% did not resell software. Reasons for this include not being aware of the opportunity, not feeling they would do a good job selling software, that it would be too time-consuming, and that they would not earn enough money doing so.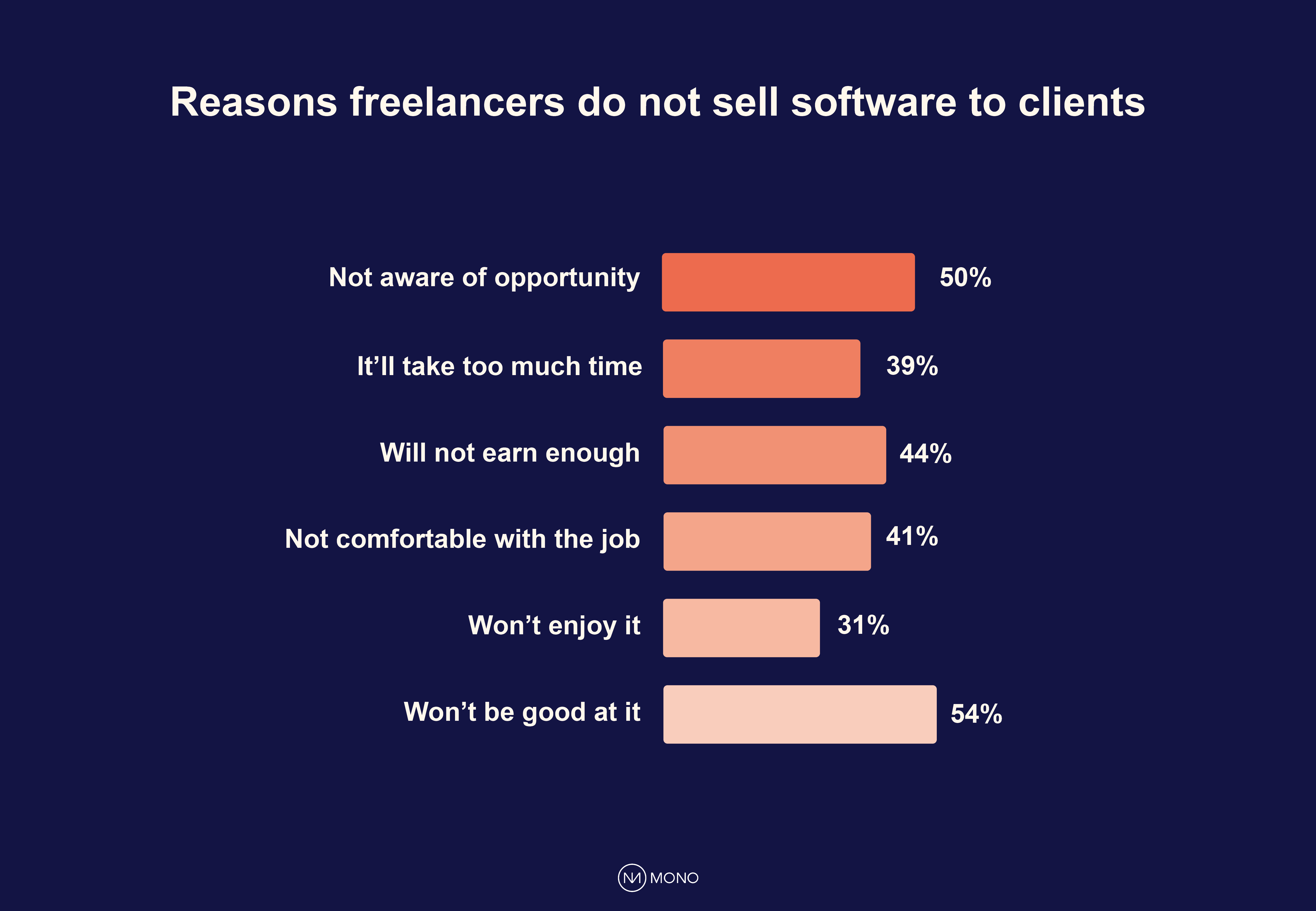 So what does this mean for you?
The ongoing digital transformation is changing our perceptions of the workplace and workforce are providing both new opportunities to explore and challenges to address.
If you are a freelancer, or thinking about going that route, and are interested in the possibility of reselling software, you can see which types of software are resold most by other freelancers and explore new avenues of untapped potential.
If you are a digital solutions or software provider, then this report is a great asset for you to understand the landscape of freelance software reselling.
If you are interested in moving some in-house sales to external freelancers, you could take steps to make freelancers aware of the opportunity and you can read more about the areas in which freelancers think the reseller partnership could be improved.
Learn more about the freelancer landscape, how to improve reseller partnerships, and much more here. 
About Mono
Mono is founded on the belief that all small businesses, despite smaller budgets, deserve the same level of online presence and performance as larger companies.
Mono Solutions, part of SME services at Bauer Media Group, delivers award-winning white label marketing technology for websites to digital service providers at scale.
Mono offers different service models and revenue streams: Do-It-Yourself, Do-It-With-Me and Do-It-For-Me.
We prioritize creating future-proof technology, with a best-in-class customer experience. Mono's technologies include guidance and support to ensure the success of the re-sellers and small business owners.