Julianna Carlson-van Kleef | 07/04/2022
15 facts from 15 years with Mono Solutions
This year, Mono Solutions celebrates fifteen years of delivering website-building technology, so SMEs have the tools they need to boost their online presence.
1. All for one and one for all
Mono, which means one or single, was founded in 2007 by the so-called three musketeers: René Hedegaard Petersen, David Westmark Højelsen and Louise Lachmann. The company was founded on the belief that all SMEs, despite small budgets and lack of expertise, deserve the same level of website design and performance as larger companies.
The iterations of Mono Editor throughout the years have focused on providing a great digital presence for all, while providing great user experiences. With our current version of Mono Editor, we want to provide SMEs an all-in-one solution to boost their online presence. With Mono Editor, SMEs have a strong digital foundation with a business website, and with additional Mono products, businesses and resellers can oversee additional lead nurturing and conversion boosting tools – such as e-commerce, on-site engagements, appointment booking, content marketing through blog posts, and more - all available from one central location in the Mono Editor.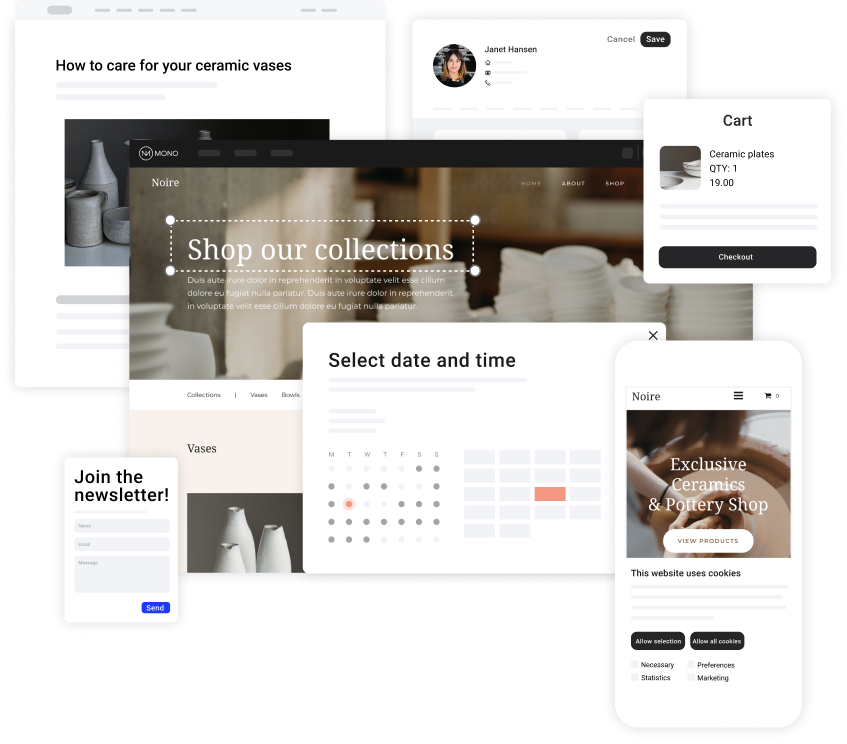 2. One good morning for getting new users
In 2007, Mono was presented on the popular Danish morning television show, "Go' morgen Danmark" which airs on the popular channel, TV2, as the most user-friendly platform for those who wanted to build their own websites cheaply and easily. Publicity from the TV spot resulted in thousands of new users on the platform.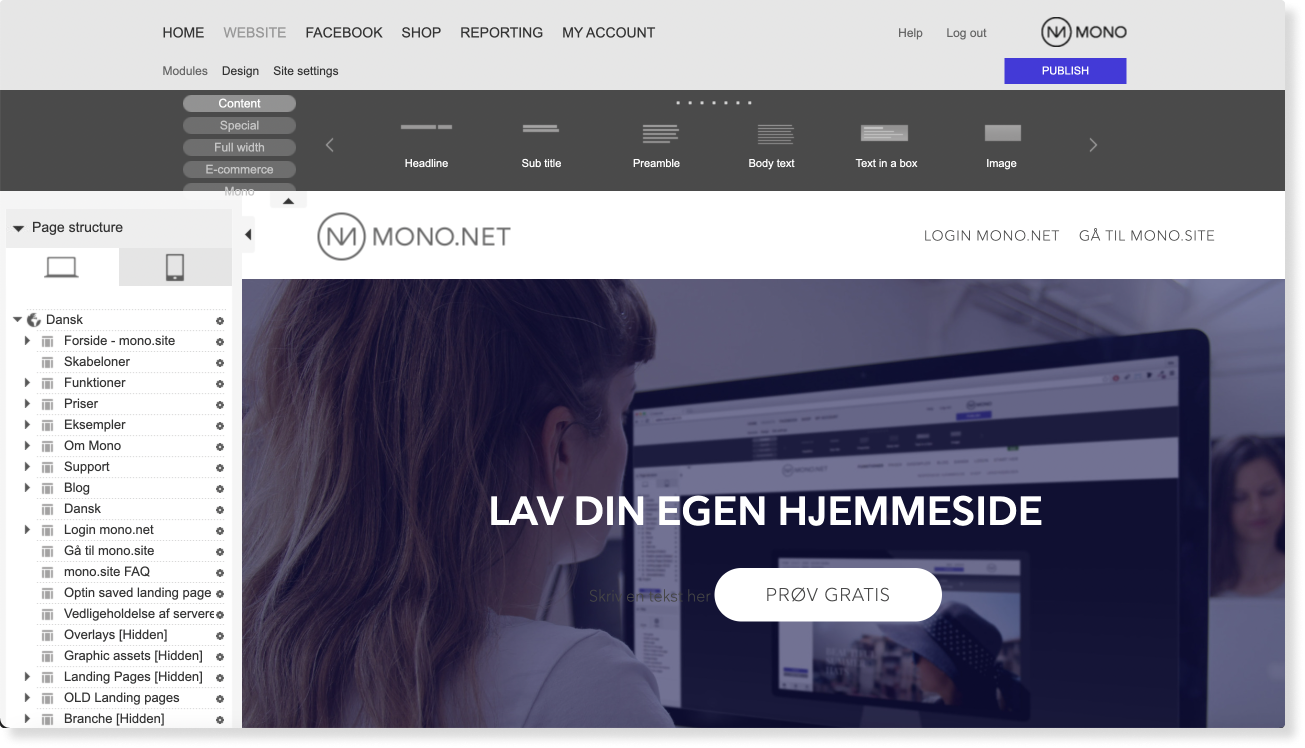 3. Mono.net - V3 Editor
After 15 years in the website-building business, we have had a few versions of our Mono Editor. While our main focus is maintaining and improving our current version of the Mono Editor, version II (Improved Interface), along with additional Mono products, it is still amazing to see that an earlier version of the editor, V3 – which came out nearly a decade ago – still performs well in comparison to other website builders' Core Web Vitals for mobile. Below you can see how Mono.net, our direct-to-consumer website builder for the Danish market using our V3 editor, performs against other website builders.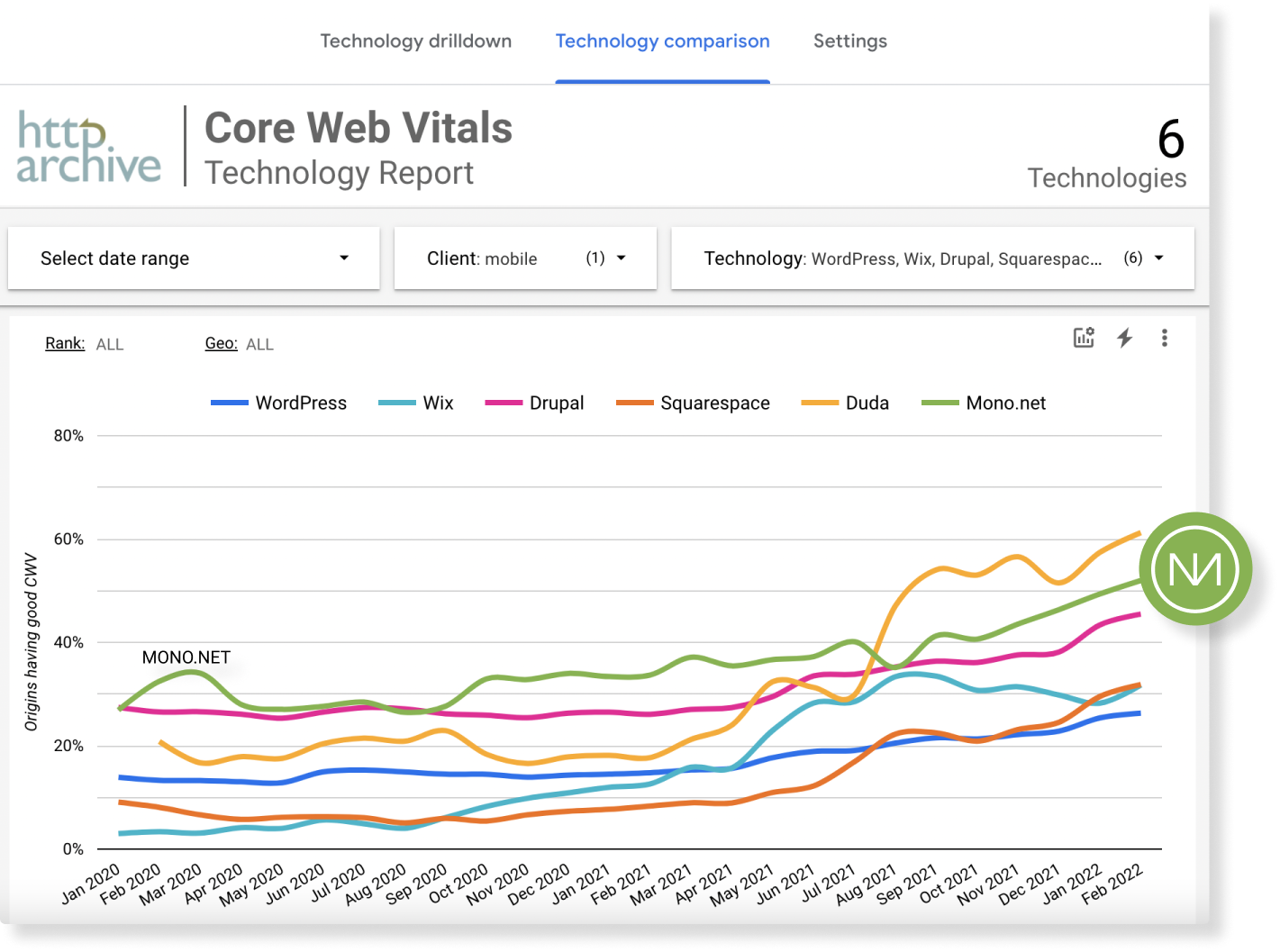 Source: https://datastudio.google.com/s/qHUdAy4O1y4

Yet despite the impressive performance after all these years, we will soon be saying goodbye to Mono.net - as we have already said hello to Mono.site! Mono.site is our updated and upgraded offering for the direct-to-consumer market in Denmark, where we look forward to offering an even better website builder – as users now have access to version II of Mono Editor, as well as additional Mono products.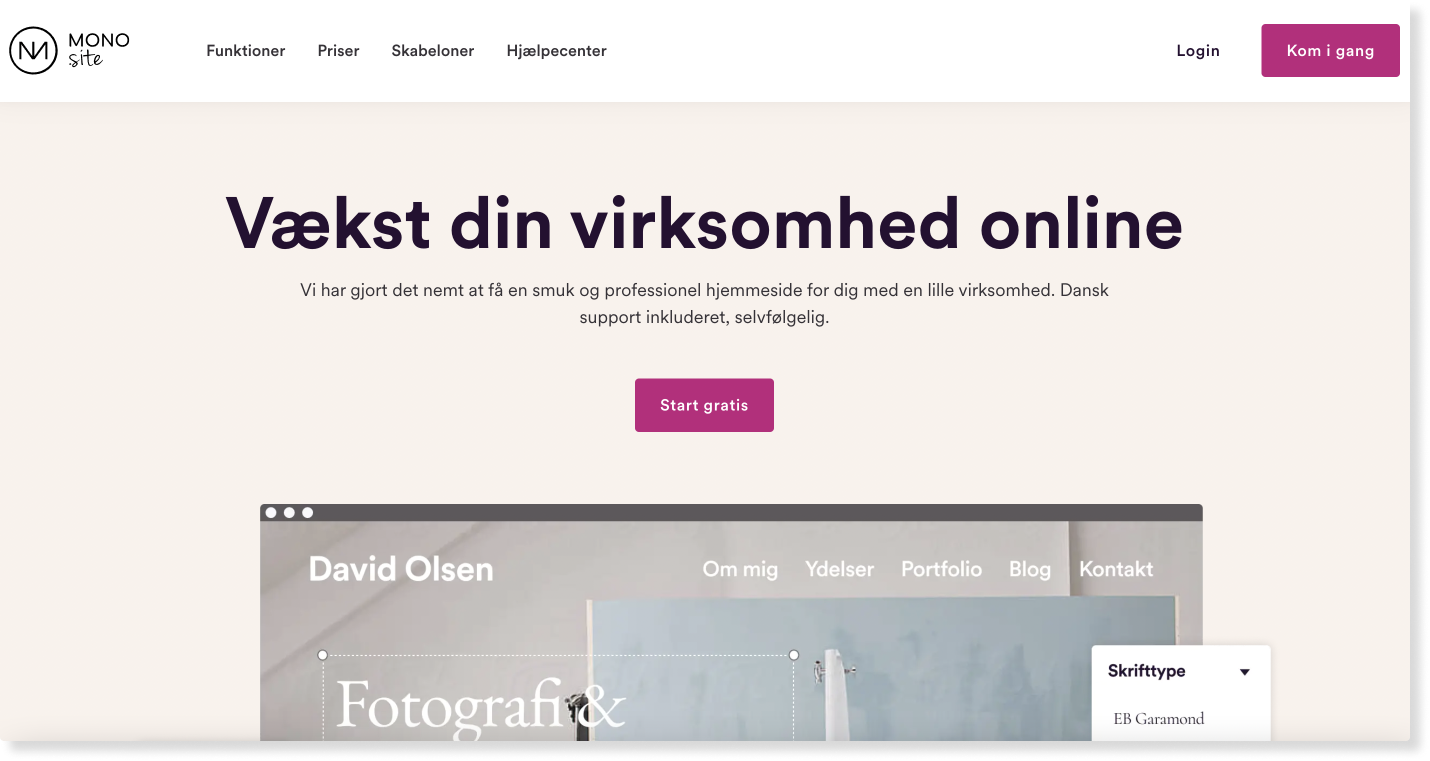 4. Service models throughout the years (DIY, DIFM, DIWM)
While Mono started as a DIY platform, over the first few years in business we realized, just like so many small businesses do, that they need help. So, in 2011, our focus first shifted to a partner driven Do-It-For-Me model, and now, as small business owners are more engaged in their digital presence than ever before, we also offer a Do-It-With-Me model to give our partners the opportunity to offer different service models to their SME clients to drive more online success.
With so many sites to oversee for our partners, we have strived to make it easy to manage thousands of customers with our Reseller Admin Interface (RAI). Our solution has been built from the ground up with automation tools to help save our partners time and effort when creating and managing websites.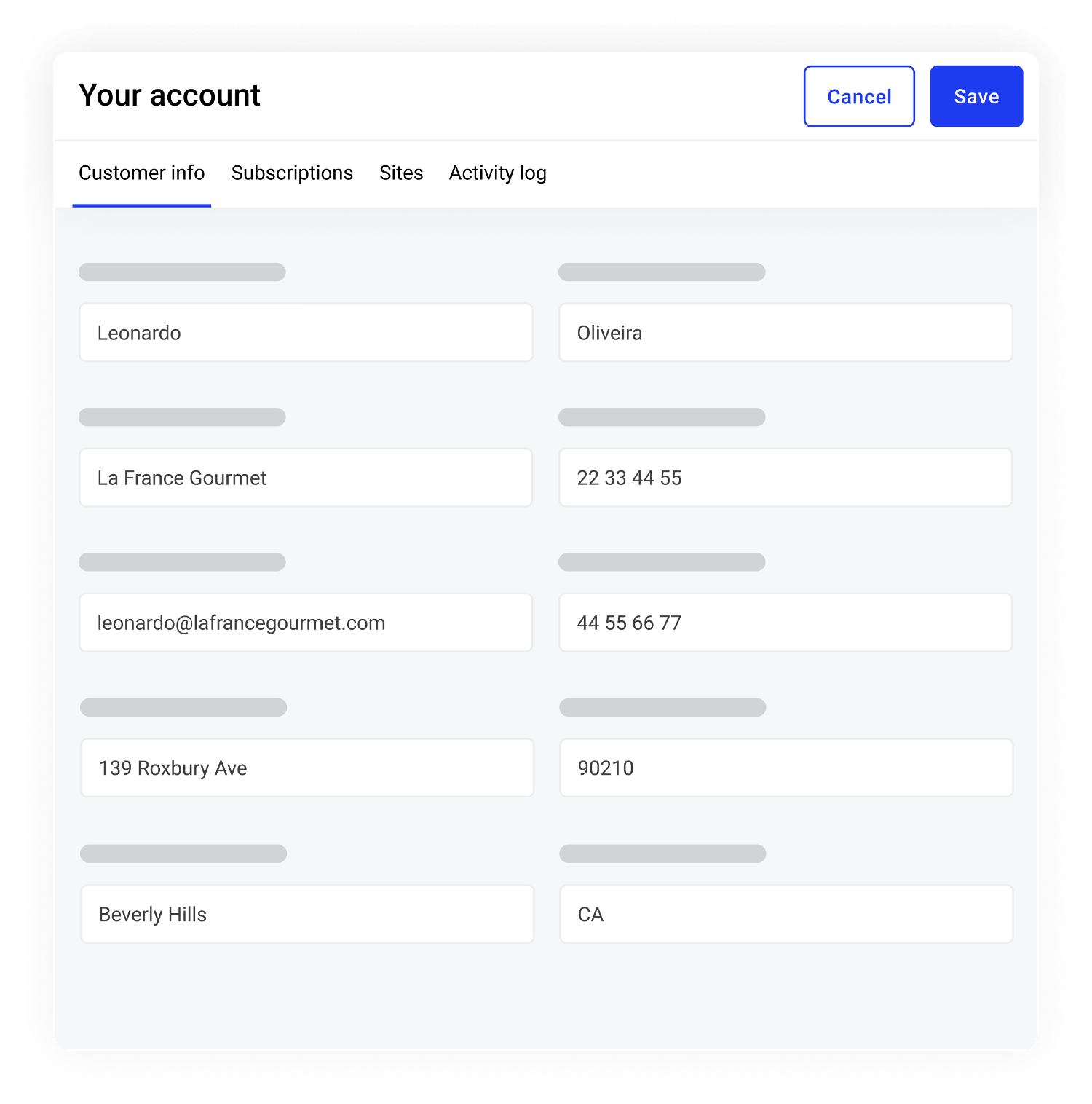 5. A part of the SME group
In 2019, Mono joined the Bauer Media Group to further strengthen our mission of providing our partners the best technology to serve SME clients at scale.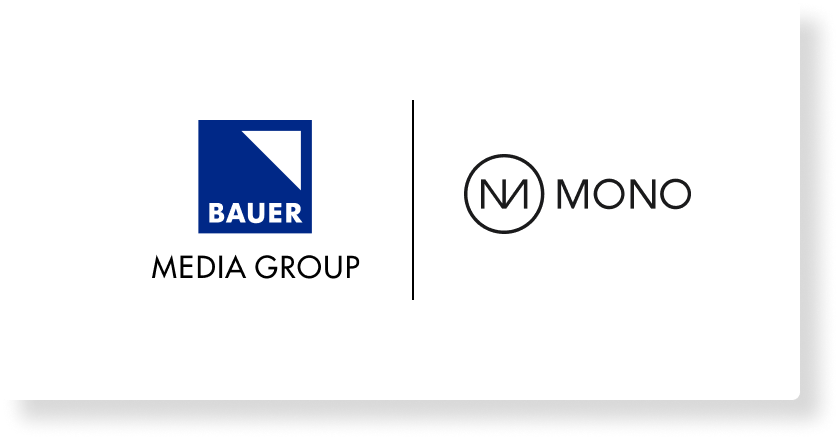 While we celebrate 15 years in business, Bauer Media Group can boast an impressive 147 years this year. Founded in Hamburg in 1875 - and now on its 5th generation of family ownership with Yvonne Bauer as CEO - Bauer Media Group is one of the world's largest privately-owned media businesses. Bauer Media Group focuses on four business areas: Publishing, Audio, Online Comparison Platforms and SME services.
6. Striving for the best websites for SMEs: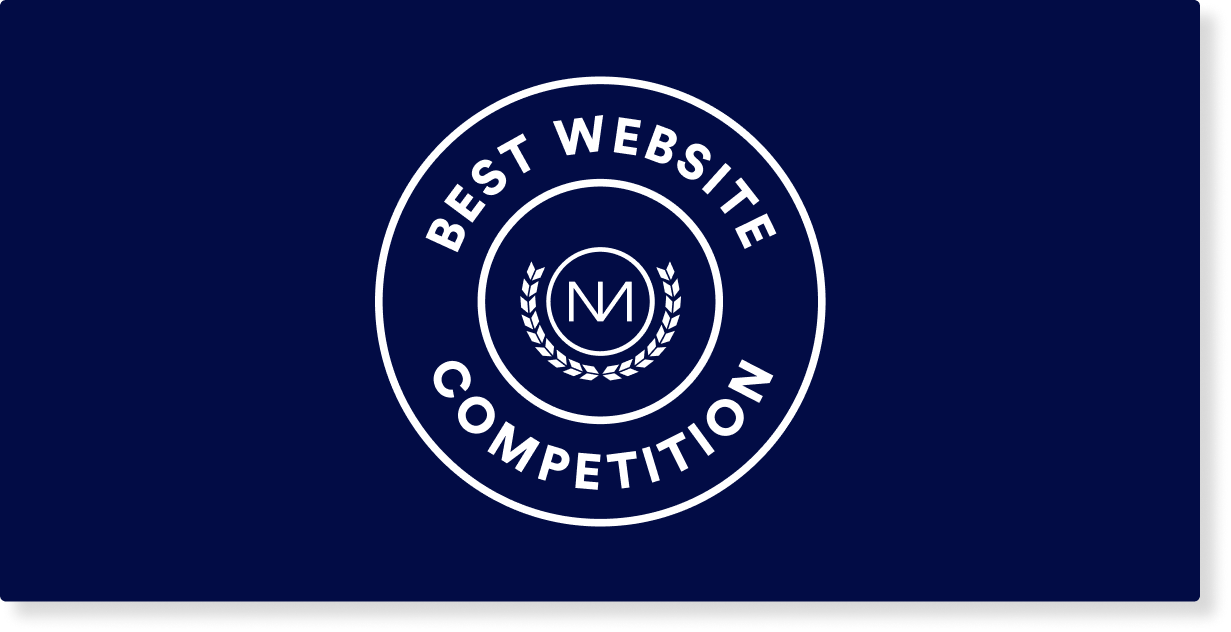 For our partners, you are probably familiar with Mono's Best Website Competitions that we have held in recent years, as it is important for us to recognize your hard work when creating a strong digital presence for SMEs. (And if you have already created a site in 2022 you are proud of, submit it here.)

But did you know that Mono also holds an internal website competition? We call this The Mono Charity Competition – it is a proud Mono tradition where all employees can submit a website of their own making to win a prize – usually for a local SME, friend or family member in need of a website.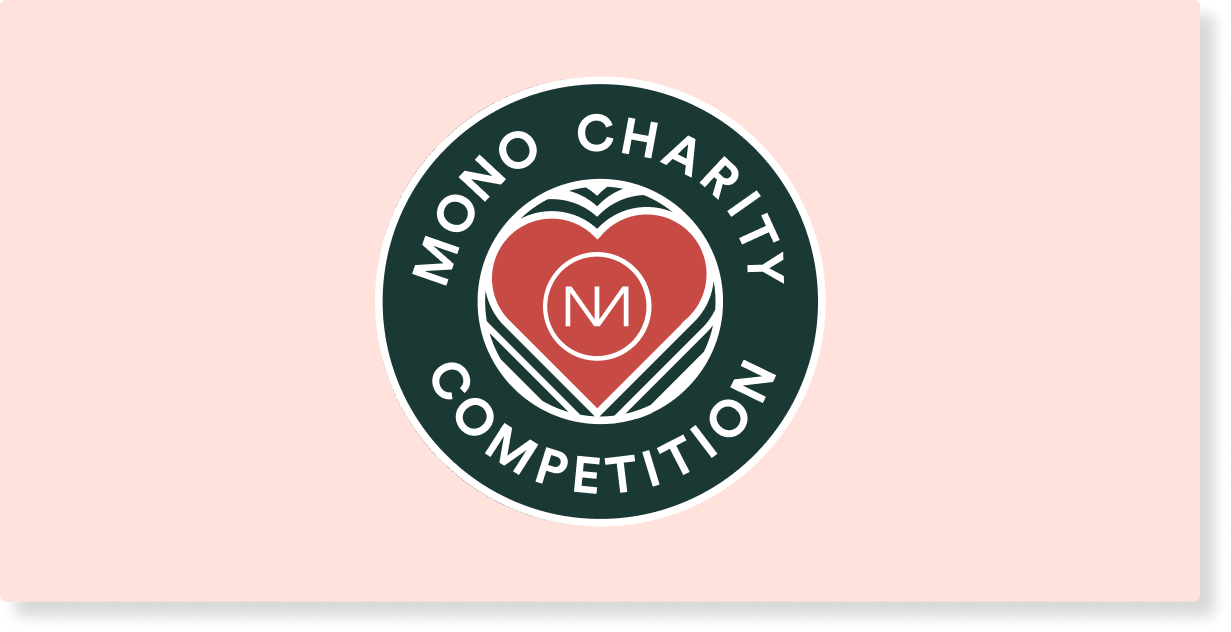 We are so proud of this tradition – because it really hits the core of why Mono was founded – that all SMEs, freelancers, or portfolio sites deserve a professional website design and great performance - while also ensuring that our employees from all departments have hands-on experience with our website builder.
7. A turn towards user privacy
We released our newest product, Mono Cookie Consent, in 2021. Our automated cookie consent solution is powered by Cookiebot™ by Usercentrics, and is designed to reduce data compliance headaches for SMEs (and resellers alike) by ensuring that all cookies are categorized and described, and that visitor consent is always obtained according to the current legal frameworks.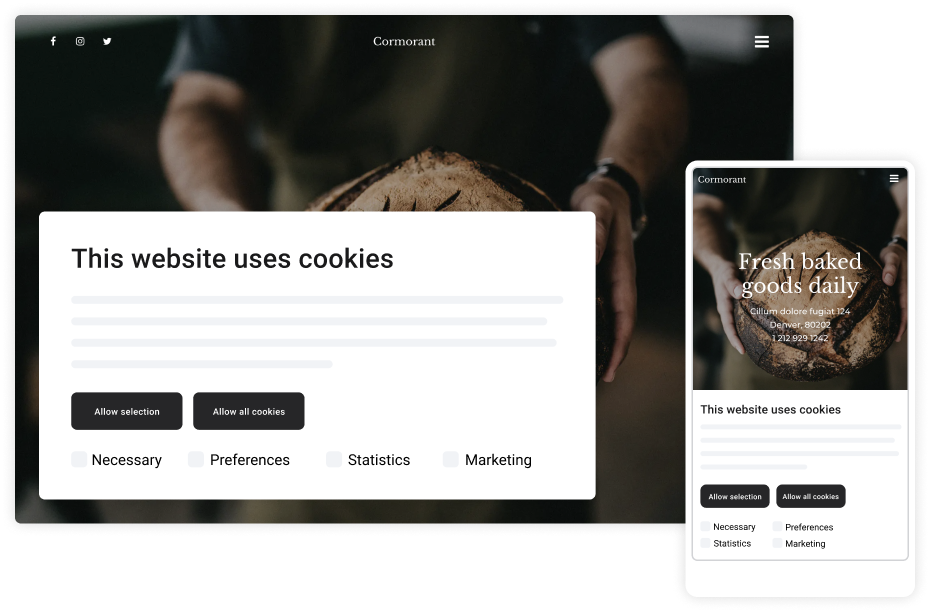 From our Best Website Competition 2022, where sites created and published throughout 2021 are eligible for submission, 47.5% of the best website competition submissions used Mono Cookie Consent – especially impressive as Mono Cookie consent was first launched in the last half of 2021.
8. Vital for SME websites – Mono Templates
The Mono team works hard on creating templates for our resellers and DIY Danish customers. Mono Websites are best-in-class when it comes to page load speed, security, and SEO. Our templates are consistently scoring in the 90th percentile on all parameters in the Google Lighthouse report - and this translates to published websites.

For our Best Website Competition 2022, the average score for Accessibility, Best Practices, and SEO on the Google Lighthouse report for all website submissions was 93 or higher, where 0 is the worst possible score and 100 is the best.
But what do these categories mean exactly? 

Search Engine Optimization (SEO) is the process of improving the visibility of a website or a webpage to search engine users, and in turn, increasing the quality and quantity of unpaid website traffic. Websites with a high SEO score will end up higher in the search results than sites with lower SEO score – increasing the chances of visitors visiting the website.
Best Practices covers a list of audits, or checks, that review common mistakes in web development; including whether a website follows general best practices, has fast pages, is secure, provides a good user experience, avoids technologies that are usable but out-of-date (deprecated technologies), and runs a diagnostic audit to identify errors.
As defined by Google: "An accessible site is one whose content can be accessed regardless of any user's impairments and whose functionality can also be operated by the most diverse range of users possible... Generally speaking, accessibility concerns can be split into four broad categories:
• Vision 
• Motor/dexterity 
• Auditory 
• Cognitive 
The Accessibility score is a weighted average of all the accessibility audits, including checks for accessibility best practices, navigation, ARIA, names and labels, contrast, tables and lists, audio and video, and internalization and localization.
So, by using Mono templates for your website design, you have the perfect starting point for creating a website that will end up higher in search results, allow a diverse range of users to operate and navigate the site, and provide a fast, secure, and pleasant experience for website visitors.
At Mono, it is part of our core that we want to provide a high level of website design – not only for SMES but for their visitors as well – and we are proud of the work done by our partners and shown with each and every website submission to this year's Best Website Competition.
Are you a partner and interested in the additional steps you can take to create an accessible site in the Mono Editor? Read more here.
9. Top pages visited on the Mono Solutions website
We are happy to see that out of the top 10 pages visited on the Mono website in the last year, including our Website Builder, Templates, and Get a Demo pages, that our blog and newsletter sign-up pages have also made the cut. With over 100 blog posts currently on our website, we aim to provide our reseller partners with knowledge about the SME industry, website tips and tricks, trends, and so much more.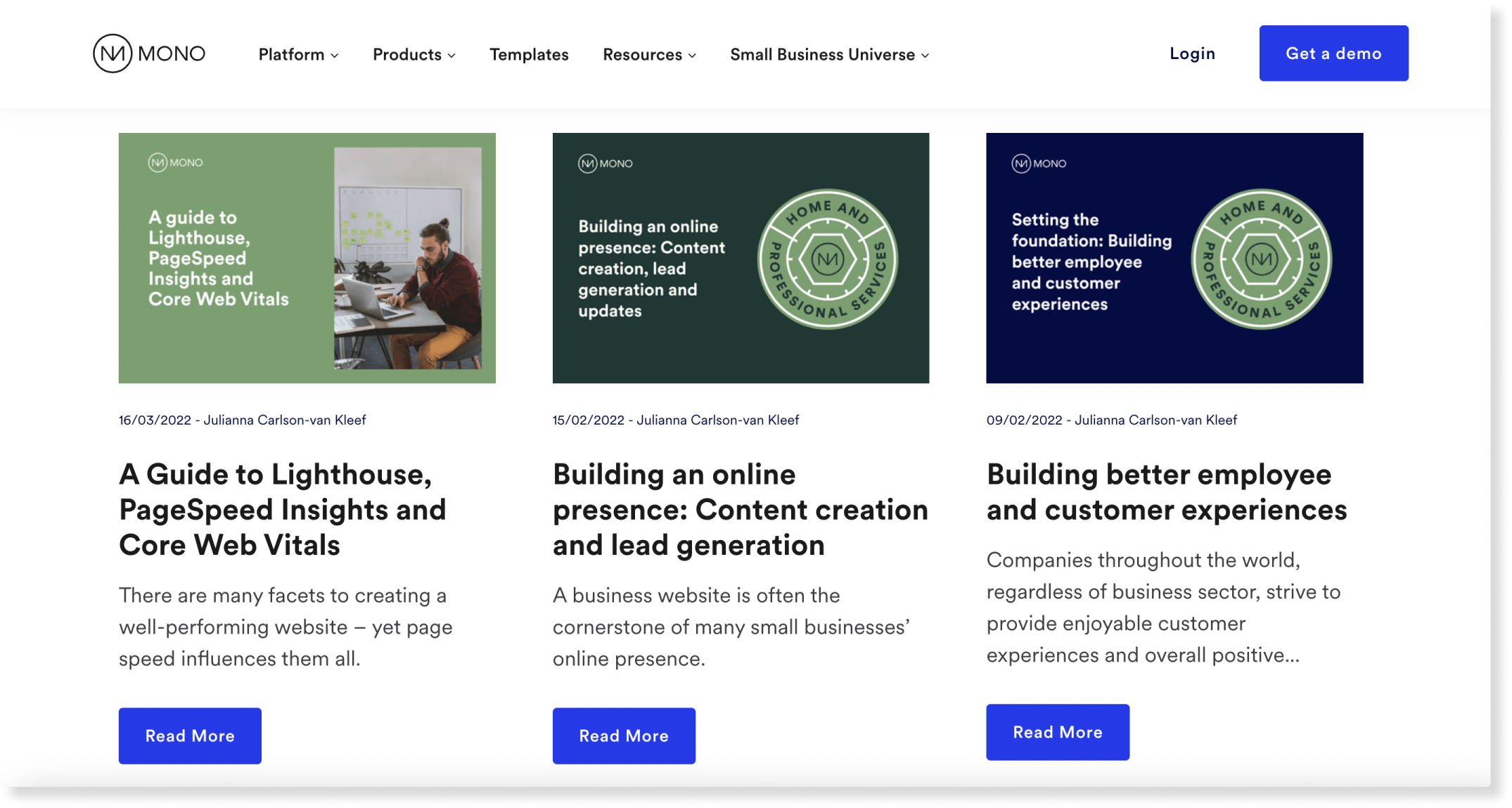 10. Most watched Mono video
Perhaps it will come of no surprise to our partners, but our most popular video - by far - is the Getting Started video, which is available right as you open the Mono Editor. After recent improvements to the Mono Editor were released last month, this video has now been updated to reflect the new user experience.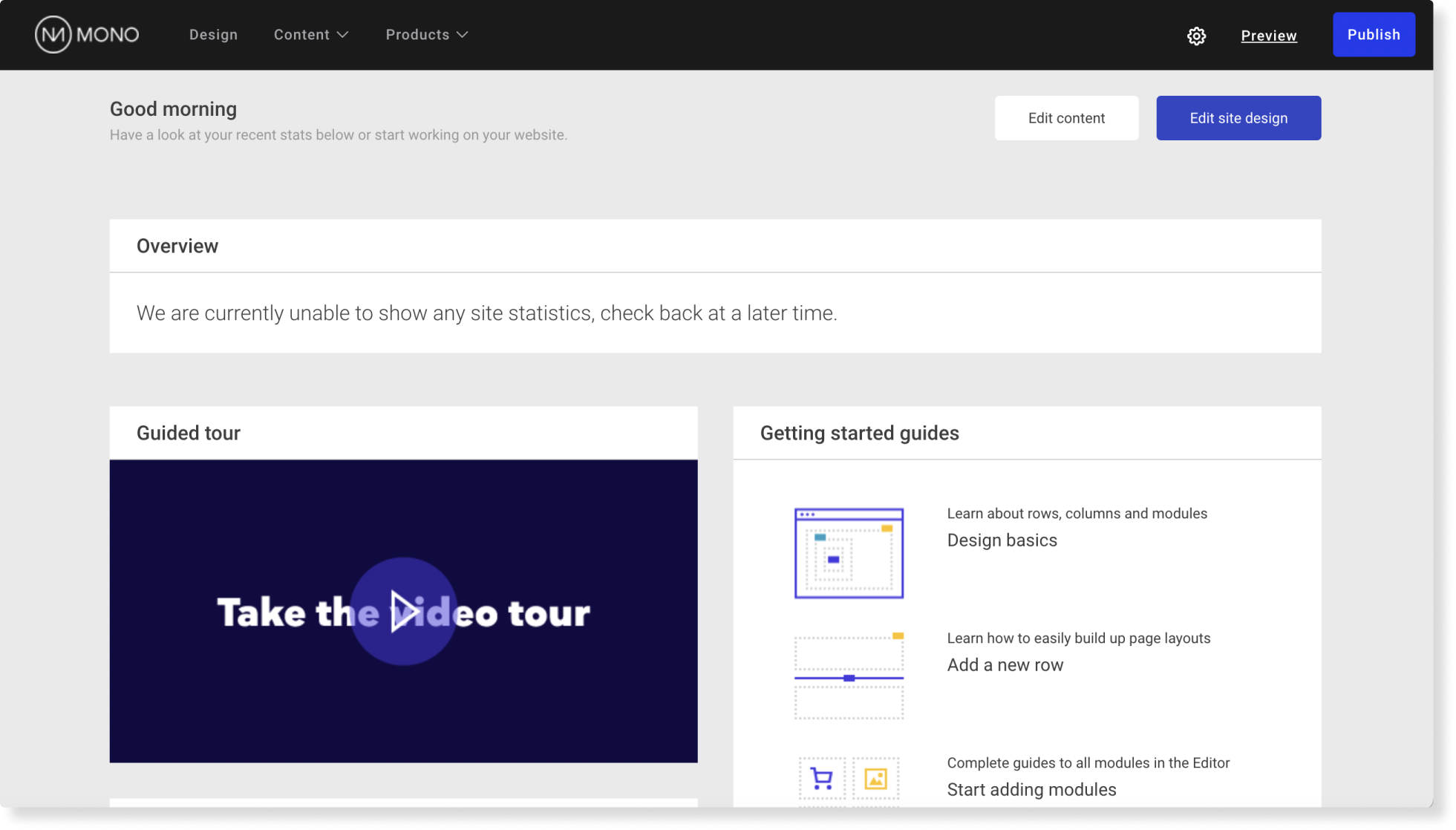 If you, or your SME customers, have questions about how to use the Mono platform, the video and getting started guides are a wonderful place to start. Or you are always welcome to take check out the Mono Help Center.
11. Our most popular webinars in the last year
From April 2021 to April 2022, our most popular webinars from the last year include: Discover the emerging freelance market, How to activate SME cookie compliance, and High-Speed Websites and UX for SMEs.
High-Speed Websites and UX for SMEs has also been our most popular after-the-fact webinar download throughout the year, followed by 2020 Website Design & SEO trends and How to automate cookie compliance.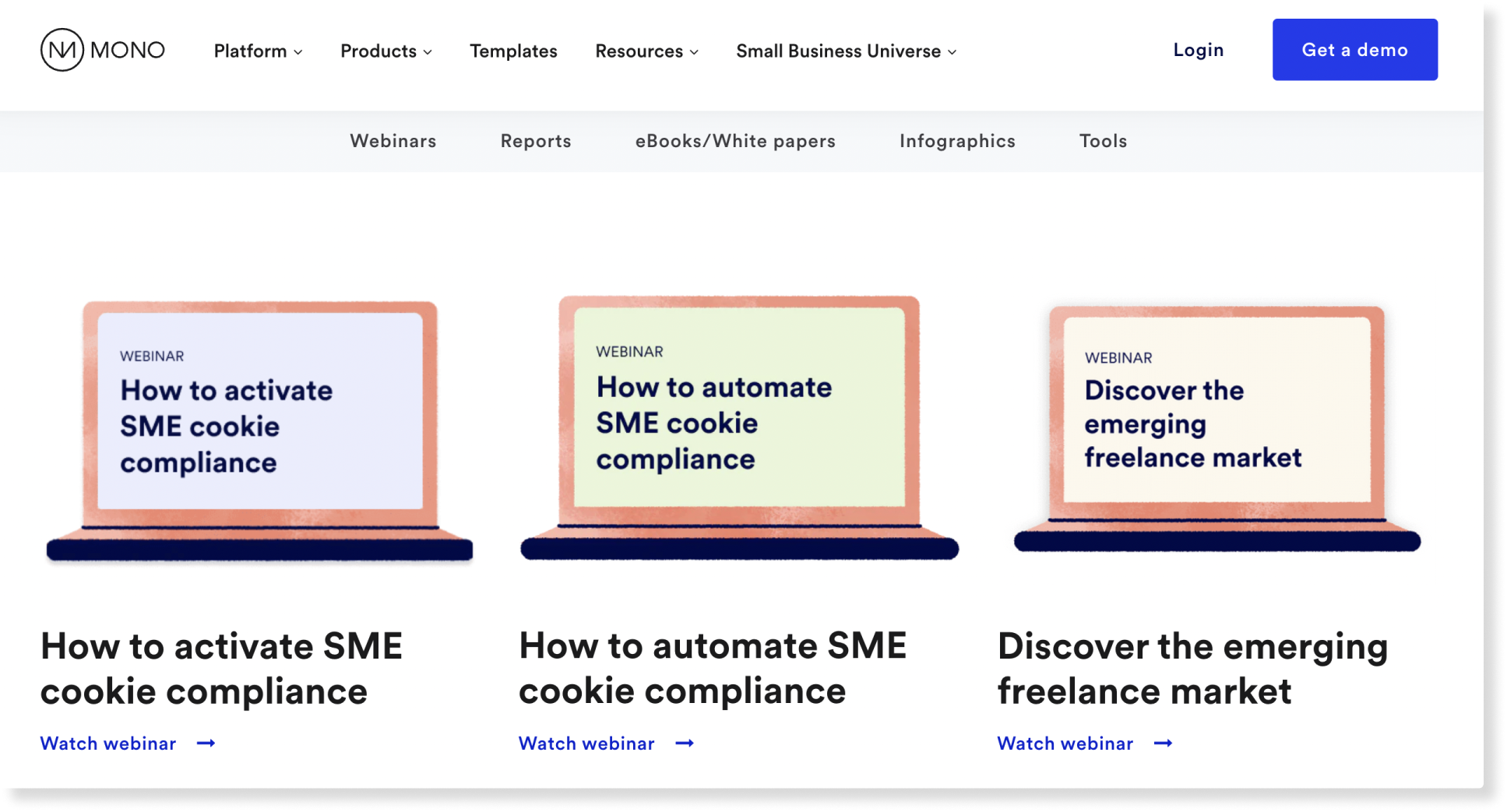 We are happy to see so much interest in high-speed websites, design, SEO, cookie compliance, and the freelance vertical! Interested in what other content we have? Check out our Insights page to see our webinars, reports, whitepapers, infographics, and tools.
12. Who makes up Mono? 
Mono Solutions is headquartered out of Copenhagen, Denmark – but our employees come from all over the world. At time of writing, we employ amazing and dedicated people from 12 different countries, including Bulgaria, Denmark, Germany, Greece, Hungary, Italy, Norway, Poland, Portugal, South Africa, Sweden and the United States.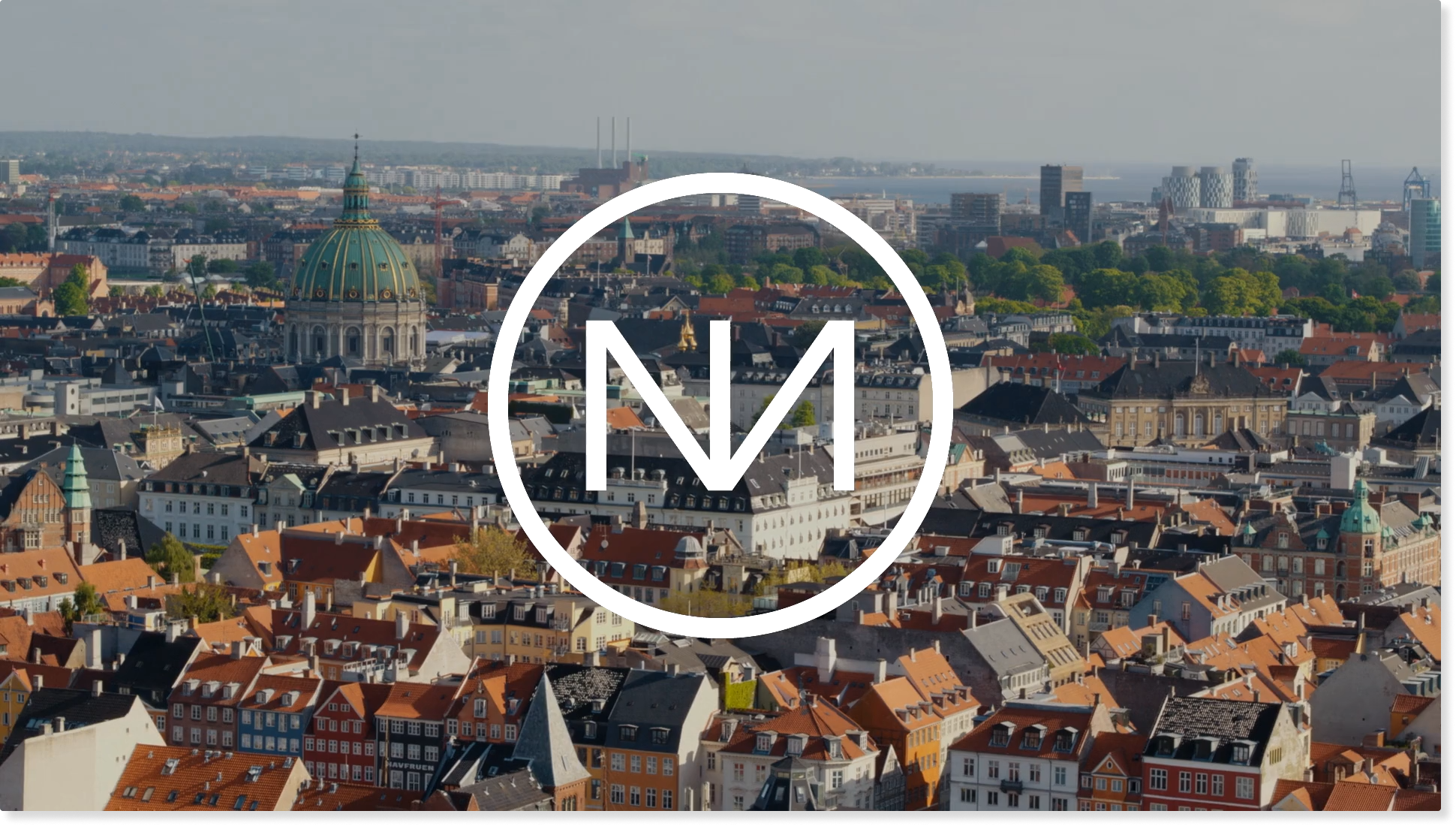 And we are always on the lookout for talented folks to join the Mono team. Do you know of anyone who you think would be a great addition to the team? Check out our open positions here.
13. Providing a better commute
Mono's current office, located in Woods Augusthus, is just a stone's throw away from the DR Byen metro station, and in turn, the headquarters of the Danish Broadcasting Corporation, which the metro station is named after in Danish.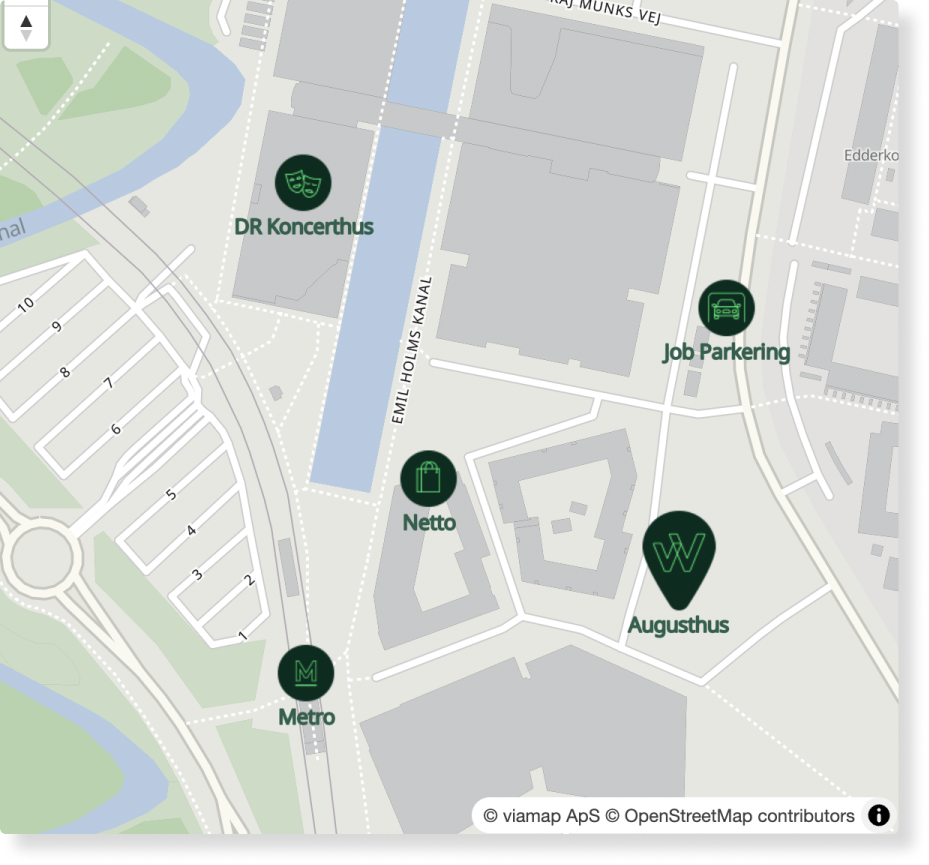 Source: https://woods-office.dk/augusthus/
Our current office offers many advantages – one of which is that it allows for easier transport options for our employees. With public transportation an easy option with the nearby metro, the location away from inner Copenhagen's busiest streets providing an easier commute by car, and an office hotel that provides a massive area to store the many bicycles used on daily commutes, we have tried to provide a better experience for the hybrid Mono team for when they come into the office.
14. New office space
As mentioned above, the Mono team moved into the new, forward-thinking Woods Augusthus office hotel in November 2021.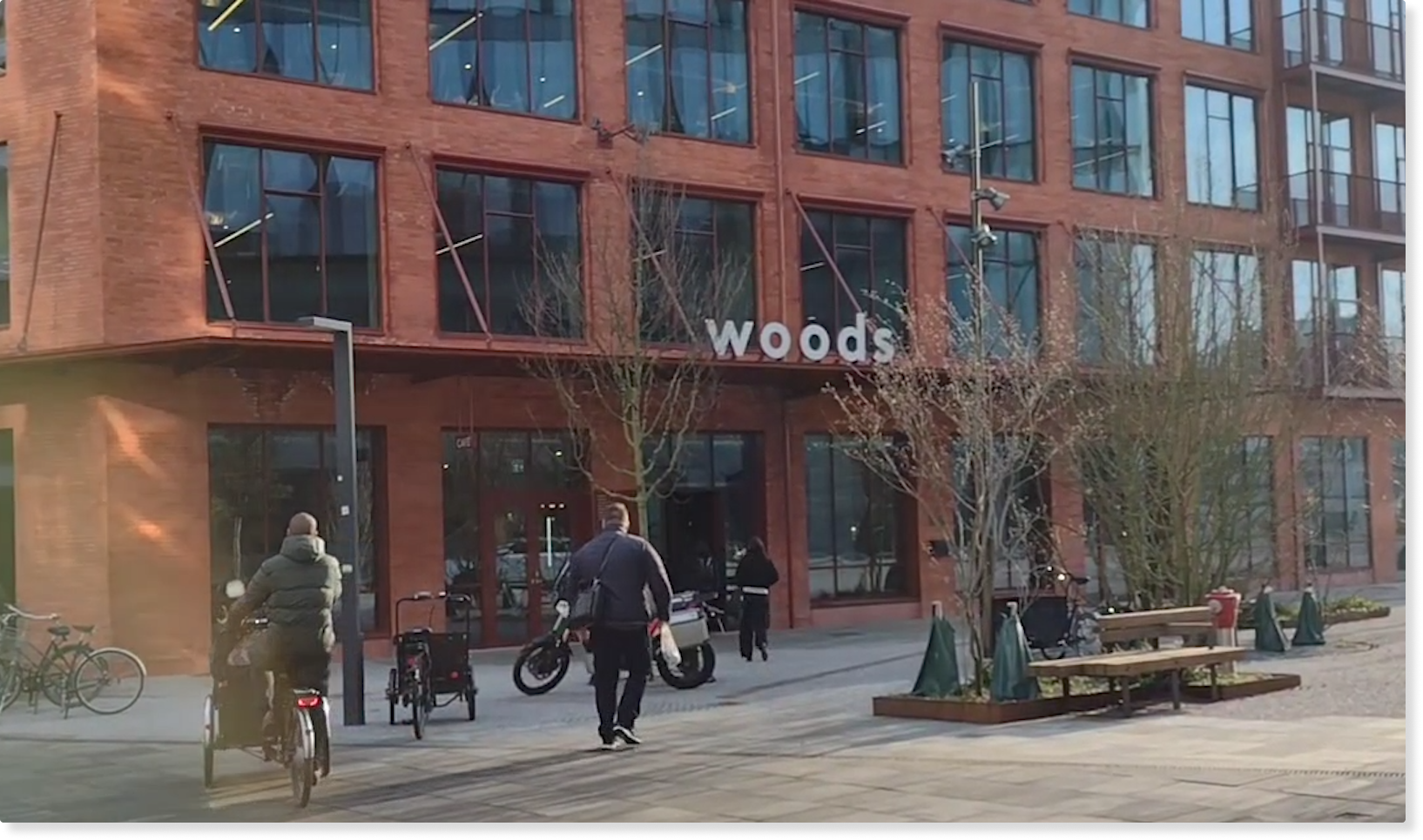 This office hotel, which opened in April 2021, is on the cutting edge of sustainability and co-working solutions, and was one of the first buildings in Denmark where protection against the risk of infection was included in the building design itself. A finalist for Office Building of the Year in Denmark, our new office space minimizes the need for touching multiple shared surfaces with not only automatic doors and faucets, but also with smart design and digital, app-based solutions.
Yet, collaboration is still key. With many different seating and meeting areas for the team and our guests, we can make sure that we pick the most conducive and collaborative meeting locale every time - from private, enclosed meeting rooms to comfortable booths or couch setups or even private phone booths for video meetings.
15. The longest standing Jira ticket is no more
Back when we celebrated our 10th anniversary in business, we wrote that our longest standing Jira ticket was called The Cake Ticket. If you were assigned this ticket, you needed to bring cake to the office. Once done, this ticket could be passed on to another colleague. Sadly, the ticket is now closed, but that does not mean that we have resolved the issue of the Mono team's love of cake. Instead, we now have a Slack channel called #cake to spread the mouth-watering news of when scrumptious desserts are brought into the office. And we have every reason to believe we will be celebrating Mono's 15 years with lots and lots of cake – throughout the year.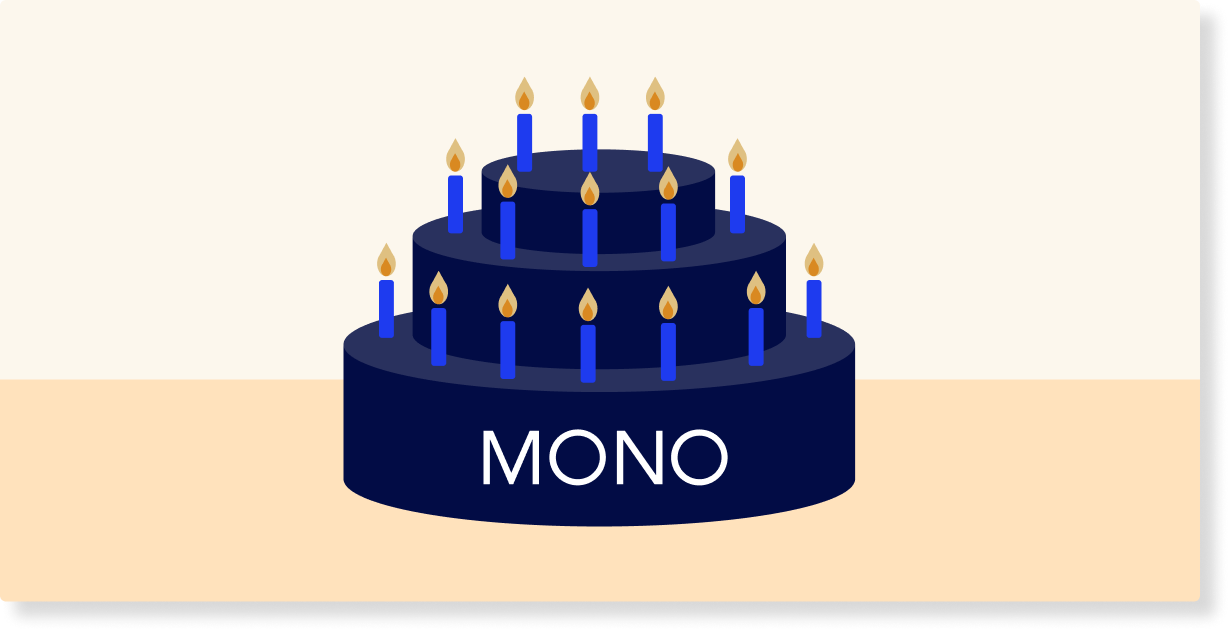 We look forward to see what the years ahead have in store!
About Mono 
Mono was founded on the belief that all small businesses deserve the same level of online presence and performance as larger companies. With Mono platforms and products, we want to provide small businesses an all-in-one solution to boost their online presence and sell more. We not only want to provide the digital tools to fulfill their digital presence needs, but we also want to share inspiration for small business owners and web designers for their digital journey.