With 86% of consumers looking for businesses online, it is no longer a question of whether businesses should be online, but how.
Some choose to have a website; others are on social media, have online shops or rely on search engines to advertise their physical stores.
We wanted to know what small businesses need to do online to succeed. Is there a formula to what works? We found that it is not about the individual platforms that businesses use, or even the content, but rather the collective experience that is given to the customers, both online and offline.
Here are five key areas small businesses should consider when setting themselves up online.
1: The importance of being found
Being discoverable on the internet is not simply a matter of gaining more customers or providing a service; it is a must to be competitive in the market.
46% of Google searches are for local businesses. And 54% of social media users use social media to search for businesses. The important thing here is not only being present on the various platforms but making sure that your details are up to date on the platforms that you decide to be on. Not only is it important to have the correct information so people can find you; it is also an important part of showing that the business is active. 
2: Why a website is essential
According to Search Engine Land, 30% of consumers won't consider a business if it doesn't have a website. 60% of consumers use websites to find or engage with businesses.
A website is a way to establish social proof with its look, feel and performance being important factors. We have all seen websites that were slow or out of date or didn't have any clear Calls-To-Action. Not only does it prevent the visitor from continuing their customer journey; it also leaves them with a less than ideal impression.
Page load speed is an important aspect of website usability and credibility. Slow or clunky page loads will cause many to bounce and look elsewhere. In a previous blog post, we talked more about why businesses should prioritise it when building a website. Read here why page speed is still the ultimate service for your visitors.
A company website is also a business' proprietary, central data source for competing across the digital landscape and serves as the foundation for all digital initiatives.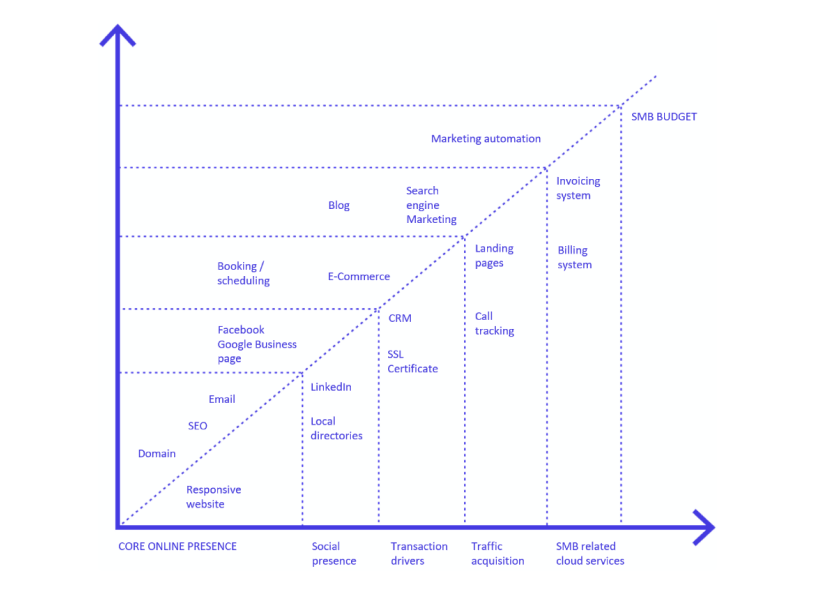 A website can work as an online hub from which many other online opportunities also arise. But it works best if it does not stand alone. That brings us to the next point: being channel agnostic.
3: Why SMBs should be channel agnostic
In a 2017 survey about online consumer behaviour by KPMG, the UK head of retail at KPMG Paul Martin said that "companies should be channel agnostic, meaning it does not matter if they start with online or offline, what matters is that all channels are interlinked to give consumers the convenience they need." 
He continued to make the point that the online world plays an important part of the consumer journey even if the consumer ends that journey in a physical store. This is a concept also called ROPO (research online, purchase offline).
77% of millennial consumers have for example looked up products on a company website, while visiting the physical store, to find information about the product, such as specifications or price.
Nearly a third of the participants in KPMG's survey cited an online shop as the initial source of product awareness. 22% cited physical shops and just 15% online advertisements. This is an interesting distribution that demonstrates the importance of being proactive on multiple channels.
It is interesting to note that it is not the online presence itself that makes the difference – it is the fact that the business is available on many channels.
4: Understanding the customer-centric shopping model
As more people gain access to the internet, the number of online shoppers is only expected to climb. The global value of e-commerce sales in 2022 was 4.9trillion US dollars with a forecasted growth of 24.5% by 2025. More than two billion people made an online purchase in 2020.
Not only are we seeing more online shoppers, the experience of online shopping is also morphing into its own concept. One that KPMG calls the 'customer-centric' model where "millions of consumers no longer 'go' shopping, but literally 'are' shopping — at every moment and everywhere."
KPMG's report also demonstrates that consumers increasingly gravitate towards products that have traditionally been harder to ship such as furniture or groceries. Cross-border online shopping is also a rising trend, giving businesses increasing access to international markets.
Small businesses that sell services or products need to be online if they want to tap into this market. Not only is it important for businesses to tap into the online market, but it is also important for them to set up their business in a way that supports the modern path to purchase.
Path to purchase has traditionally been a linear process where the customer goes through a process of awareness, consideration, conversion, and evaluation. However now with many offline and online touchpoints this process has become more of a web where customers fluctuate between the stages depending on input from various channels. It is important for businesses to facilitate this process by using a multi-channel strategy to create product awareness.
5: Tapping into the potential of digital marketing
The five most requested tools in marketing or sales job listings were Facebook, Instagram, Adobe, Twitter and Google, according to a study called Competence Demand Analytics that used AI to analyse over 600.000 job listings.
With more than 3.78bn users world-wide, social media especially presents a huge potential for small businesses. Online marketing is cheaper and quicker than traditional advertising such as print, offering a higher reach for much lower maintenance.
Interestingly, a 2020 survey in North American and Europe showed that only 12 % of e-commerce companies planned to sell through social media in 2021. Considering the size of the market, it is surprising that more businesses were not considering it. One reason could be that it requires a level of specialised knowledge and resources that small businesses may not have.
Mono Solutions has made this step easier for small businesses through Mono E-commerce+. Powered by Ecwid - one of the leading ecommerce providers worldwide – Mono E-commerce+ offers advanced features such as integrations with multiple online channels, integrated shipping options, automated inventory and a mobile app. Read more here.
Is there a formula for online success?
We wanted to know what small businesses need to do online to succeed. What we found out is that there is no formula, but rather a collective of touchpoints that should be interconnected and active. Each touchpoint – whether physical or online – should be up-to-date, professional and quick to load. It is not about the individual online platforms that businesses use but rather the collective web of experience presented to the customers, both online and offline.
In terms of websites, it is important to have one. A flashy website with many functionalities is less of a priority than having one that performs well. A website must look professional, be easy to find, add to the company credibility and potentially allow them to sell and market their products or services.
About Mono
Mono was founded on the belief that all small businesses deserve the same level of online presence and performance as larger companies. With Mono platforms and products, we want to provide small businesses an all-in-one solution to boost their online presence and sell more. We not only want to provide the digital tools to fulfil their digital presence needs, but we also want to share inspiration for small business owners and web designers for their digital journey. 
Mono is a platform that fully supports SMB digital needs over time, always keeping their business data in their control for consistency across any channel or medium. Request a demo.

Sources:
Brightlocal Local Consumer Review Survey 2022
SEO tribunal
KPMG: The truth about online consumers. 2017 Global Online
Consumer Report
Statista: E-commerce worldwide - statistics & facts
Statista: Share of e-commerce companies planning on selling directly on social media in North America and Europe in 2021
Cphbusiness
Search Engine Land