Adding a professional ecommerce solution to your SME customer's website is a great way to generate new business, supporting the growing trend of consumers who prefer to shop online and allowing SMEs to meet their customers where they are. As a digital solutions provider, perhaps ecommerce is even one of your key selling points when you sell website packages to your SME customers, or if it is not already, it soon will be. It may, however, be difficult as a reseller to know exactly which benefits to draw upon when taking a new product or service package to a customer. How can you best communicate the value of the services? Which needed services should be offered together? 
Communicate the value of your digital ecommerce solution to your customers
How will ecommerce benefit your SME customers? What are the main benefits of the ecommerce solution you have offered compared to others?

If you are a Mono Partner selling Mono Ecommerce+, feel free to use the benefits of Mono Ecommerce+ and the Mono Platform in your own marketing: 

• Affordable and flexible subscription packages (Start-up, Essential, Professional, Unlimited)
• Customizable online shop layout and design
• Integrations with multiple online channels for easy multi-channel selling (Instagram, Facebook and more)
• Integrated shipping options facilitating the online selling process
• Compatibility with many international and regional payment gateways
• Automated inventory and order synchronization across platforms
• Easy-to-use interface ensuring intuitive use and quick set-up
• Mobile app in order to easily manage shop while on-the-go













Go-to-market strategies
Packages are a good strategy to sell to customers who would like a complete solution with everything included. Here are some ideas on how you could go to market with different kinds of packages:
• Add-on offering: You can offer Mono Ecommerce+ as an add-on subscription to your existing website packages.
• Bundled offering: Offer e-commerce as part of a bundle with other digital presence solutions. For example, a Mono website can be bundled with Mono Ecommerce+ to sell online, the Mono blog to highlight products, and Mono On-site Engagements to promote new products and collections.  
• Vertical approach: Take a vertical approach and focus on selling Mono Ecommerce+ to specific industries that are focused on selling goods such as the retail sector. Examples include: bakeries, clothing stores, flower shops, jewellers, pharmacies, specialty grocers, sporting goods store, and more. 
• Offer additional services: In addition to setting up Mono Ecommerce+ for your SMB clients, you can help them to keep the shop up-to-date by adding new products. Or, Mono Ecommerce+ could be bundled with additional services. For example, as Mono Ecommerce+ allows businesses to not only sell on their website but also on social media, you could offer packages that include additional services such as social media management and marketing, social media advertising, SEM/SEA campaigns, SEO, and copywriting.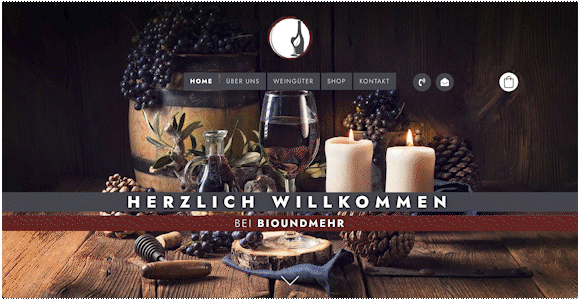 Marketing Inspiration
How to communicate your services to your SME customers:
On reach:
• Sell more by making your products available around-the-clock
• Easily integrate with other platforms such as Facebook to reach a bigger audience
• Make your products available even when your physical store is closed
• Make products available for purchase that would otherwise just be in the warehouse, such as off-season products
• Reach geographically distant customers
On conversion:
• Convert website visitors into buyers
On selling anywhere:
• Sell everywhere - your website, social media, Amazon and more
On targeting:
• Offer targeted discounts to selected groups of customers
On ease of use:
• Effortlessly create a professional online shop
• Easily add new products
• Save time and effort by making use of the integrated shipping and payment options
On automation:
• Make use of the automatically calculated shipping rates
• Ensure flawless stock management through automated inventory and order synchronization across platforms
On customization:
• Customize the online shop to truly reflect the business
On flexibility:
• Offer deals by quickly changing pricing
• Easily change your online product offering

https://www.forbes.com/advisor/business/ecommerce-statistics/

An upsell for you, an upgrade for your SME customer
• Upgrade a website offering with Mono Ecommerce+:
Encourage customers with a basic website offering to upgrade to a more advanced website offering, and receive Mono Ecommerce+ as an exclusive part of their website bundle.
• Extra training:
Offer extra training to help your SMB clients better understand how to use Mono Ecommerce+; where they learn how to add and manage products as well as create social and marketplace ads on their own. This is a great way to engage SMB clients that are willing to invest their time, but need a little extra help due to their lack of technology skills.
• Upgrade to a more advanced ecommerce package:
As SMB clients grow their online business over time, retarget them by offering them more advanced website and ecommerce offerings and encourage them to manage their digital presence to more effectively engage with their website visitors, customers and prospects.
• Sell complementary offerings:
Ecommerce on a website is a great foundation to build the digital presence of an SMB, and you can sell complementary offerings to boost the performance, visitor engagement, online opportunities, and reduce churn. Some options for complementary offerings are:
• Copywriting
• SEO
• SEM/SEA campaigns
• Social media management and marketing
• Social media advertising
• Listings management
• Google Ads

Wrapping Up
It is important to create go-to-market strategies where you have clearly communicated the value and specific benefits of an add-on, bundle, vertical, service or additional offerings to your SME customer. If you are a Mono Reseller partner selling Mono Ecommerce+, we hope this blog post has given you insight and inspiration on how you could market Mono Ecommerce+ to your SME customers. 
Want to learn more? Download our free marketing brief about how you can sell Mono Ecommerce+ to your SMB customers here.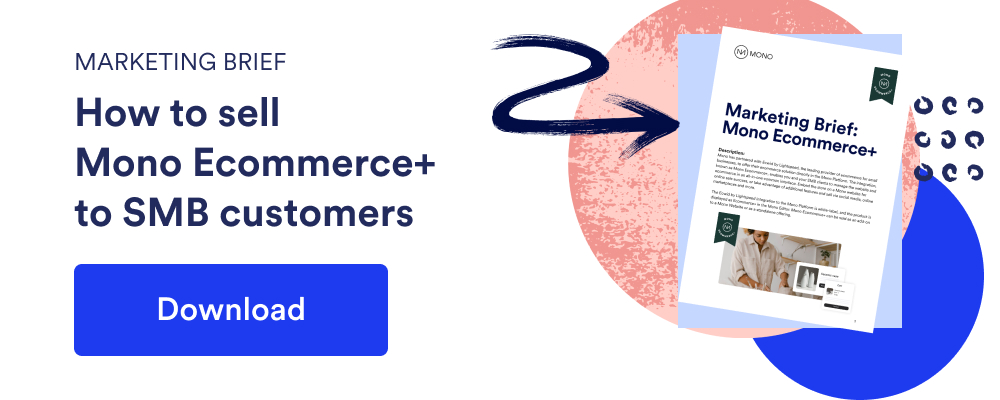 About Mono
Mono was founded on the belief that all small businesses deserve the same level of online presence and performance as larger companies. With Mono platforms and products, we want to provide resellers with an all-in-one solution to build and manage customer websites. Request a demo here.